A meeting of religious minds
Mary Fowles — Spain | The southern Spanish city of Seville, where narrow cobblestone streets are lined with orange trees, remains a testament to the culture of cohabitation between Jews, Christians and Muslims that flourished off and on here for some 800 years before the Spanish Inquisition.
In this symbolically appropriate town, over 40 religious leaders and scholars from around the world met December 14–17 to discuss how religions can increase tolerance and decrease hostility between their communities. Professor Barry Levy, dean of the McGill Faculty of Religious Studies, has been at the forefront in planning the event, titled Religion, Society and the Other: Hospitality, Hostility and the Hope of Human Flourishing, since the idea was born two years ago.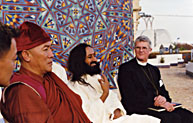 Mary Fowles
The four-day meeting was the first of the newly established Elijah Academy, founded by Israeli Rabbi Alon Goshen-Gottstein, who has collaborated with Levy on interfaith programs taught at McGill and in Jerusalem for the last six years. The Academy aims to facilitate interaction between scholars and religious leaders of the Jewish, Christian, Muslim, Buddhist and Hindu faiths at an international level.
The conference was attended by such prominent figures as the chief Sephardic Rabbi of Israel, Shlomo Amar; Bishop Frank Griswold of the Episcopal Church in the USA; and Islamic teacher Wahiduddin Khan, who has written over 200 books on Islamic thought in India and abroad. Other leaders hailed from as far as Cameroon, Taiwan and Thailand.
In Seville, they had the chance to forge relationships, discuss the most pressing issues facing religions today and plan for the future work of the Academy.
"Apparently the global interfaith scene is lacking serious academic materials, and we think we have the expertise to bring scholars together and to come up with new ideas and new directions," said Goshen-Gottstein the day after the conference. He plans to put the Academy to work on launching an educational network that will provide materials to existing interfaith institutions that want to develop curricular study programs and dialogues, he said.
"One of the things that was recommended over and over again was that we make education a high priority," said Levy. "People are saying there is a real problem transmitting the values associated with this meeting down to the practitioners at the local level. One of the things that we need to work on is the delivery of this information. There are textbooks of hostility out there that need to be countered."
In preparation for the meeting, a think-tank of seven academics, representing six major world religions, wrote papers on how the traditions allow for religious co-operation. Levy was one of the think-tank organizers. These papers served as a backdrop for the gathering in Seville.
"This is not people of different religions patting each other on the head and saying wonderful things about world peace," said Levy. "This is a serious intellectual endeavour and the basis of it was this think-tank. This really ranks with some of the other major efforts to organize events with the world's religious leaders. But nobody does it with the same intellectual thrust.
"Scholarly input ensures that there is academic integrity to the process," he added. "Some of the religions have a difficult time distancing themselves from their own tradition in order to look at it critically. People who are trained academically are often more able to do that."
In the think-tank, Levy and Goshen-Gottstein represented Judaism, and Richard Hayes, PhD, who taught Buddhism at McGill, for 15 years before moving to the University of New Mexico last year, represented Buddhism.
Levy, who is trying to establish a one-year master's degree program in interfaith studies at McGill sees the university as ideally situated for this work.
"Nobody in this world believes that religion isn't a priority anymore," he said. "After September 11 you can't even entertain the thought. I believe interfaith dialogue is not only a timely idea, but McGill with its research capability, its tradition of involvement in religious institutions, in the bilingual city of Montreal and in the country of Canada, rather than the United States, for example, is extremely well positioned to become a centre for this kind of activity."
Levy has already implemented an intensive interfaith summer studies program at McGill, which includes taking day trips to different religious communities in Quebec. In 2003, the program was coordinated and moderated by Vanessa Sasson, a recent McGill Religious Studies graduate and lecturer whose dissertation compared the birth stories of Buddha and Moses. Next summer, the two-week program will address the topic Sexuality, Textuality and Spirituality.
Sasson, 30, was also a moderator at the conference in Seville.
"Interfaith work is not only an academic pursuit," said Sasson, who was born into a Jewish family, maintains close ties to the Jewish community and at the same time has been a Buddhist practitioner for eight years. "By focusing my academic career on interfaith studies and programs, I feel I am using the tools I have acquired in academia for something beneficial," she said. "Participating in interfaith dialogue is a way to truly enact my ethics."
But as one of only three women who sat at the roundtable of delegates in Seville, the work of interfaith offers a unique challenge, she said.
"The absence of women at the conference has been a general concern expressed by most participants," she said. "It's true there are fewer religious leaders who are women. Hopefully we will discover more and reach out to include more female representatives. Women need to be included in the dialogue because we're here, and that's the bottom line. By excluding women you exclude half the dialogue.
"Women are also very important in religion, in the transmission of religious values to children and continuing the lineage of religious traditions.
"Sitting around a table of men, I felt conflicted. Not only am I a woman, I'm also quite young," she added, "I felt more pressure to be sure that what I was saying was both accurate and kind.
"Nevertheless, the leaders didn't play the status game with me," she said. "I only felt kindness and very welcomed. I was awed and humbled by this. These people were of a very high status and they were very hospitable. They were just so human and that needs to be emphasized; it shows that all religions have the capacity to produce really kind human beings."