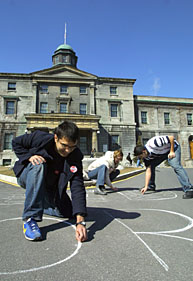 Owen Egan
Health and safety audit
Mark Reynolds
A health and safety audit commissioned by McGill found many areas where we can improve our practices. Change is already underway.
CFI results announced
Mark Reynolds
The most recent round of CFI funding announcements brought $13 million to McGill, allowing professors to purchase high-tech equipment for biological and materials research.
Dishing up a storm
Mark Reynolds
McGill plans to pick a food service contractor for its campus cafeterias. How will this affect quality and service? Students and staff voice their concerns, as does administration.
Improving dental health for the poor
Bronwyn Chester
Dental health can be tied to income, and that has a real effect on Montreal's poor when dental treatment can easily cost hundreds of dollars. This worries dentistry professor Christophe Bedos, who cut his teeth in public health dentistry in Burkina Faso and Cameroon.
Intertwining religion and philosophy
Mary Fowles
A new interdisciplinary undergraduate program that blends philosophy and religion will allow students to explore the long history of the interaction between Greek philosophy and Judaism, Christianity and Islam.
Inclusive toilets
Shannon Devine
It's become known as the transgendered toilet, but the goal of a barrier free washroom in the student centre is to allow access to anyone, whether they have disabilities, small children or non-traditional gender identities.
Philosophy and physics
Maeve Haldane
At 84 Mario Bunge recently published a paper on quantum mechanics — just to see if he still could. The philosopher and physicist's worldview is formed both by his academic passions and by his upbringing in Argentina.
Curators' favourites
Curators from McGill museums share their favourite items from their collections — and what a collection of curiosities they've unearthed.
Epstein scores
Mark Reynolds
Steven Epstein might have to invest in a bigger mantelpiece — the music professor recently won his 11th Grammy. The New York-based producer works with luminaries like Yo Yo Ma, but teaching at McGill is worth the commute.
As Associate Vice-Principal (Communications), Jennifer Robinson's job is to make McGill look good. As a public relations pro, she couldn't ask for a better client. Architecture student Lara Pascali looks at the phenomenon of Italian North American homes with two separate kitchens: one upstairs for show and a basement one for use.
Re-evaluating Richler, getting passionate about Jesus on film, easing the process of death, dancing the night away to beat cancer, examining the organization of science and bugging out about insect conservation.
Critical care for the Royal Vic: Architecture professor Annmarie Adams makes a plea for the Royal Victoria Hospital buildings before they are abandoned. Also, Engineers Without Borders shows photos of the ravages of AIDS in Africa, beer and cheese mix at Paragraphe and it's brain awareness week.