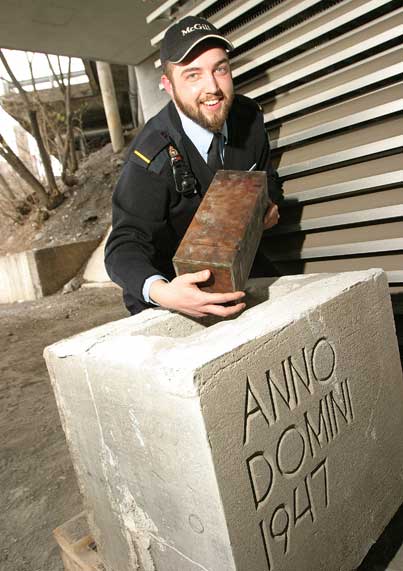 Sharp eyes and an appreciation of history led Sergeant Mathieu Racette of campus security to make an intriguing discovery on campus -- a time capsule that had lain forgotten and unseen for over fifty years in the foundation of the Donner Building. Now the question is, what to do with it?
Owen Egan
Former Supreme Court Justice Charles Gonthier is the new Wainwright Fellow in the Faculty of Law. He will use the position to study law as it relates to sustainable development.
International Earth Day was marked at McGill by two major lectures. Steven Sanderson of the Wildlife Conservation Society spoke on the precarious balance of alleviating human hardship and conserving the environment, and Sir Robert May, former Chief Scientific Advisor to the British government, spoke about the future of biodiversity in an overpopulated world.
Security guard Mathieu Racette knew right away that the box he discovered near the Wong Building was special — and now the plain metal container has people across campus scratching their heads trying to solve the mystery of its contents.
Board of Governors restructuring was the big issue of the April 23 meeting of Senate. Also up — health and safety follow-up and American security concerns may be having an impact on graduate applications.
Gail Chmura's research really is a day at the beach. Well, the salt marsh, at least. The geography professor spends her time on the tidal marshes of the Bay of Fundy, which she believes may be an important factor in reducing global warming.
Communications officer leaves McGill after 30 years.
Pete Barry wears two hats as the student advisor and program coordinator for the McGill School of the Environment, which is appropriate for a position that takes him to two campuses. Psychology professor Daniel Levitin can't draw, but that hasn't stopped him from being a successful syndicated cartoonist. Levitin supplies many of the ideas seen in Bizarro.
Walk for the Hospice for Palliative Care week, and learn how to find meaning in illness. Take the kids for a whale of a time at the Redpath Museum. Fine-tune your investment know-how with the McGill Women's Networking Group.
Africa is often perceived as a dark, backward and war-ravaged place. Sauvé Scholar Readith Muliyunda explains how the international media help perpetuate these inaccurate stereotypes.