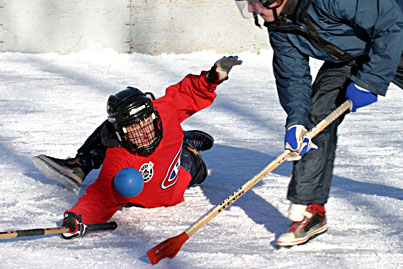 Might we recommend cleats? It's hard to tell if the Habs fan on the left is playing hockey, or working on his floor routine for gymnastics. Either way, these students took advantage of the ice surface on Lower Field to get in a little match of broomball.
Owen Egan
Faculty mixer
Mark Reynolds
Undergraduates will be able to put a little Bio into their Byron with a new degree that will start accepting students in September. The BASC blends courses from the Arts and Sciences to provide a flexible interdisciplinary learning experience.
Energy week
Bronwyn Chester
Turn off the lights on your way out! McGilll marks its first Energy Week, where conservation is the name of the game.
Muscles and space missions
Ian Popple
If we're going to put a man on Mars we have to be ready for the effect of prolonged weightlessness on the human body — a subject Douglas Watt, director of the Aerospace Medical Research Unit has been studying for a long time.
Big dreams, small screens
Omar Sachedina
They're the new kid on the block of campus media, but TV McGill is a student club that is growing in confidence and reach.
McGill's Paralympians
Hana Askren
Men's volleyball coach Jose Rebelo and graduate Karolina Wisniewska are accomplished athletes in their fields. Both are Paralympians, but it is their athleticism, not their disabilities that define them.
Putting the teacher in T.A.
Eve Krakow
The Tomlinson Science Teaching Development Workshop offered graduate students the chance to gain concrete strategies and tools they can use in the classroom as TAs.
Interdisciplinary science training
Craig Stein
This fall, about a dozen top graduate students will become the first cohort of a new regime to train scientists. The McGill Behavioural Neuroscience Training Program prepares young scientists for the competitive world of neuroscience research.
Project Collaboration: experiment in education
Eve Krakow
Teachers, scientists and university professors put their heads together to design new ways to teach science in the Quebec educational system. In the end, it was a learning experience for everyone.
Improving info-lit
Mark Reynolds
A recent CREPUQ survey revealed that incoming undergraduate students to Quebec universities are woefully unprepared for the modern research library. Library studies professor Diane Mittermeyer talks about the results, and where we go from here.
Find It McGill links resources
Mark Reynolds
A new library software program makes one-stop research possible. Find It McGill links databases, electronic journals, and the online catalogue.
Help for Arts internships
Mark Reynolds
The Faculty of Arts has set up a dedicated internship office to assist students in finding work experience in their field.
Award winning teachers
Fifteen McGill teachers have been recognized by the departments, faculties and students as outstanding pedagogues in their fields. They share their motivations, favourite memories, and on-screen and real life inspirations.
Cath Mortin has lived all over the world, and everywhere she's gone she has made herself at home. The biomedical engineering student is a compulsive volunteer, working in everything from homeless shelters in Virginia or coaching kids in China. NSERC recently celebrated 25 years with a lecture on extreme weather from the most recent NSERC chair and a reception for NSERC grant holders.
Get up close and personal with Mars, get a behind the scenes (and scenography) look at the Cirque du Soleil, learn about Cambodia from a Sauvé scholar or dodge woodchips at the Woodsmen competition at Macdonald campus.
Eyal Baruch's wind-tunnel navigating abilities recently won him a trip to Vegas. He gives the dirt on how to survive on the cheap in Sin City. Sweet treats at Nocochi, and Hanging around by design at UQAM.