On campus
Nobel laureate to lecture at McGill
Talk of pulsars will gravitate to McGill tonight. Nobel Prize winner Joseph Taylor, who co-discovered the first binary pulsar, is visiting McGill to deliver the Anna I. MacPherson Lecture in Physics.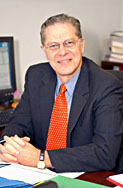 During his talk, Taylor will describe his pioneering discovery. He will also explain how he continues to explore problems in astrophysics and gravitational physics by means of radio-wavelength studies of pulsars. Indeed, Taylor has since discovered many new pulsars, including millisecond and binary pulsars.
The James McDonnell Distinguished University Professor of Physics at Princeton University, Taylor won his Nobel Prize in 1993 with Russell Hulse. At the time, he was a professor at Amherst University, where Hulse was his graduate student.
In 1974, using a large radio telescope in Puerto Rico, they discovered a pulsar emitting radio pulses, orbiting around a companion star, which they identified as a neutron star. Their discovery of the first binary pulsar, called PSR 1913 + 16, provided an unprecedented test of Albert Einstein's theory of gravitation, which, according to the general theory of relativity, predicts that objects accelerated in a strong gravitational field will emit radiation in the form of gravitational waves.
Taylor and Hulse timed PSR 1913 + 16's pulses over the next few years and showed that the two stars are indeed rotating ever faster around each other in an increasingly tight orbit, with an annual decrease of about 75 millionths of a second in their eight-hour orbital period.
The rate at which the two stars are spiralling closer together was found to agree with the prediction of the Theory of General Relativity to an accuracy of better than 0.5 percent. This finding, reported in 1978, provided the first experimental evidence for the existence of gravitational waves and gave powerful support to Einstein's theory of gravity.
Taylor's free lecture is January 8 at 8 pm, in Moyse Hall of the Arts Building.
Heart-stopping crimes
The ways of love are difficult to understand. One minute you're happily married, the next you've shot your husband because you didn't like the way he looked. Such is the story of Babe, the youngest of three sisters whose lives are depicted in Crimes of the Heart, a Pulitzer Prize–winning comedy by Beth Henley staged by the Tuesday Night Café Theatre.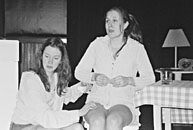 Melanie Derynck
The third production of TNC's 2003–2004 season, Crimes of the Heart tells the story of Lenny, unsuccessfully searching for a husband; Meg, who is trying to make it as a singer; and the trigger-happy Babe. These three are joined in life's foibles by a disreputable cousin, Babe's lawyer and a ghost from Meg's past (we're sure it makes sense on stage).
Crimes of the Heart is directed by Melanie Derynck and stars Emma Sheppard-Lanza, Torie Partridge, Peter Hibbs, Ferelith Young, Kate Spurgeon and Kenneth Huynh.
Crimes of the Heart runs January 14–17 and 21–24 at 8 pm, 3485 McTavish Street. For reservations call 398-6600. Tickets are $6 for students and seniors, $8 for adults.
The human voice of tears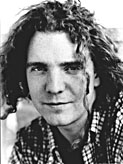 For those seeking a remedy to all that holiday cheer, one could do worse than to check out the music of John Dowland, as performed by renowned countertenor (and visiting McGill professor) Daniel Taylor. With the award-winning ensemble Le Voix Humaines and lutist Sylvain Bergeron (also a McGill instructor), Taylor will perform the boppy number "Flow my tears," part of Dowland's "Lachrimae."
This event is a Montreal premiere: the complete "Lachrimae" has not been performed before in this city. These musical movements portray different modes of tears... of love, sadness, pining and anger.
Lachrimae will be performed at 8 pm on January 14 at the Chapelle Notre-Dame-de-Bon-Secours, 400 Saint-Paul East. Tickets are $25, $15 for seniors and students. For reservations and information call 842-2112.