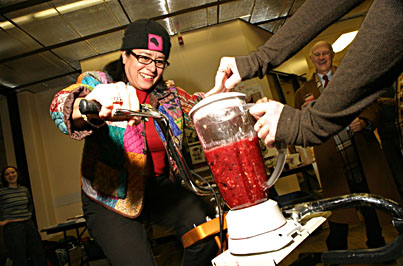 Owen Egan
MUNACA votes for action
Mark Reynolds
The union representing McGill's clerical staff has rejected the university's latest offer tabled on November 26. At the same time they mandated a possible strike. The administration and the union are now entering conciliation talks.
Daycare subsidy woes
Mark Reynolds
The parents and staff of the McGill daycare have drafted an open letter to the provincial government protesting new regulations for subsidized childcare.
Vinet's term as Provost renewed
Maeve Haldane
Provost Luc Vinet has been appointed to a second five-year term. Hey, what happened to vice-principal (academic)?
The business of world hunger
Bronwyn Chester
An American cow earns three dollars a day in subsidies, but half the world's farmers earn less than two dollars a day. Indian food and trade policy analyst Devinder Sharma spoke at Macdonald campus about the inequities of the global trade system.
Computing weather
Ian Popple
Welcome to the new math: Martin Gander hopes to improve the number crunching behind the science of weather forecasting.
Waste into want: rural innovations come to the city
Tamara Kelly, SPARK writer
Suzelle Barrington has developed a way to reduce the odour of farm waste, and she wants to bring her composting techniques to the city.
New solutions crystallize for malaria research
Niki Boyd SPARK writer
Chemistry professor Scott Bohle has helped solve a medical mystery — how exactly anti-malaria drugs work. The breakthrough could help develop better treatments for a disease that infects 300-million people a year.
Cool times at the McConnell Arena
Mark Reynolds
Winter's here, so you might as well enjoy it, and where better than at the McConnell Winter Arena, where you can observe the art of driving a Zamboni.
Barbara Lawson is the curator of the Redpath's ethnology collection, with everyone from cavemen to mummies in her care. The University of Calgary has wall-to-wall carpeting with the donation of $2 million of Persian rugs, and the CMAJ says don't look to nursery rhymes for medical advice.
Policy Matters
Senate report
: Senate discussed reducing the size of the Board of Governors.
Town hall meeting
: Managers vented their concerns at the annual MForum Town Hall.
Learn about McGill's first Nobel Prize winner, pick up some winter clothing or entertain the kiddies — there're all sorts of activities for your brain or your frozen posterior this month.
You can get your holiday shopping done without having to brave the malls — campus offers a number of shopping opportunities, and better yet, you won't hear Jingle Bell Rock on the PA system once. Also, get your roasted chestnuts at Phillips Square, or serendipity in box with Distroboto.