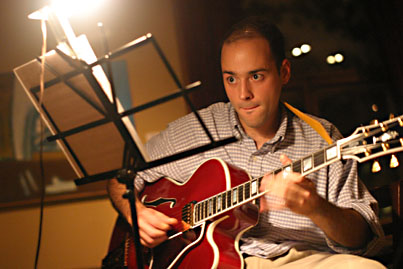 According to 19th century author Leigh Hunt, Music is medicine of the breaking heart. Perhaps experimental medicine PhD student Mike Aguiar can explore that in his thesis. Here, the fret-man for Chewie and the Hubcaps strums up a storm in the Post-Graduate Students Society Battle of the Bands at Thomson House.
Owen Egan
Culture and psychiatry
Maeve Haldane
The Society for the Study of Psychiatry and Culture Conference that ran from October 2nd to the 5th had a theme this year of "Creativity, Spirituality and the Arts." Attendees could learn about everything from fairy tales to suicide in Indian cinema, and how it reflects on the nuances of cultural psychiatry.
New federal funding for graduate students
Mark Reynolds
Graduate students in the Social Sciences and Humanities received new money from the federal government. Masters students will be funded from this level for the first time.
Maintenance at McGill
Sylvain-Jacques Desjardins
McGill's current tally of deferred maintenance is currently $165-million. It's an uphill battle to catch up on the work, complicated by McGill's many heritage buildings.
The science of translation
Mark Reynolds
Nahum Sonenberg's work in translation control mechanisms -- the means by which our genes make proteins -- has taken him in interesting and unexpected directions, from cancer, to obesity to virology.
Chaos in the rain
Ian Popple
Shaun Lovejoy is singing a different tune about the rain. The physics professor has shown how those raindrops that keep fallin' on your head do so in a chaotic pattern.
The ebb and flow of the McGill Bookstore
Phillip Todd
Our intrepid reporter went undercover at the McGill Bookstore during the September text-book rush. The best way to describe it? Tidal waves.
MSE student Leah Tivoli feeds the masses. Also, the long awaited Information Commons and CafŽ have opened in the Redpath library. Grab a coffee and pull up to one of the 69 computers.
Senate report: VP Morty Yalovsky presented the final numbers for last years budget. The numbers are down overall, but there is some hope on the horizon. Also, Dalhousie butts out.
The Open Meeting of the Human Dimensions of Global Environmental Change Research Community will be taking place at the Wyndham Hotel from October 16-18. Abe Levine will be introducing Montreal to his amazing seashell collection, now on display at the Redpath Museum. Former Irish president and high commissioner of Human Rights for the UN Mary Robinson is coming to Homecoming, courtesy of the Faculty of Graduate and Postdoctoral Studies. The Seven Deadly Sins are coming to McGill, courtesy the Faculty of Law.
Recent McGill grad Kristen Bussandri visited the City of Angels this summer -- over three days she managed to be cast as an extra in a movie and music video. Maybe next visit she'll run for Governor. Also: Art you can call, get a taste of Morocco, pick up A House By The Sea (the book, not an actual house).