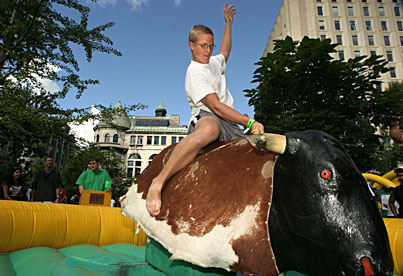 As classes begin, students arrive at McGill resolved to make a fresh start and get the most out of their year. During Frosh Week activities on lower campus, first-year science student Dave Casson took his vow to grab the bull by the horns a little bit more literally than most.
Owen Egan
Kasirer Dean of Law
Mark Reynolds
Nicholas Kasirer will be the Dean of the Faculty of Law. His vision of the discipline could transform the school.
The buzz on 740 Penfield
Sylvain-Jacques Desjardins
It's a concrete and glass field of dreams for scientists: McGill has built it, and they have come. 740 Dr Penfield is a haven for some of the most exciting bioscience in the country. It opened September 8.
Reporter gets a new look
Maeve Haldane
Like a fine wine, The Reporter gets better with age. As we rocket into our thirty-fifth year we've added new sections, new writers and, let's not forget, colour and a brand new look.
State of Grace
Maeve Haldane
Actor, writer, director – university lecturer? The multi-talented Hollywood star Ethan Hawke came to McGill this summer to discuss writing, religion and the concept of grace in his book Ash Wednesday.
Policy matters
The McGill University Health Centre Glen Yards project has received a green light from the provincial government, but it comes with some conditions.
Also in this issue
Denise Nahas wants you to know more about your computer, and not just because, as the director of the Information Systems and Technology customer service department, it would mean less work for her. As a top troubleshooter, Nahas truly enjoys helping people.
Macdonald Farm is a sweeter smelling place this year, thanks to a giant dome covering the pig farm's less pleasant waste material. Answer: your fancy degree won't help you here. Question: Which category of people don't do well on TV quiz shows? Sorry, scholars.
Former National Post editor joins MISC. Long-serving doctor retires from Douglas.
Hob-nob at a pow-wow, meditate on monarchs, EU is the issue, get your buzz on at the sexuality fair, book launch from MQUP.
The real face of wrestling: Hana Askren describes what it's really like to be on the mat and behind the scenes at the U.S. World Team Trials, one of the top wrestling events in America.