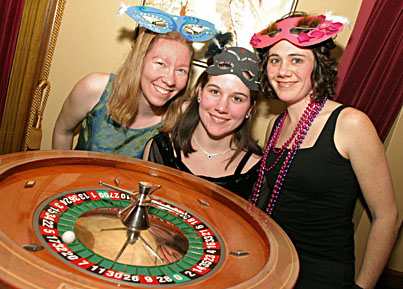 Gambling, drinking — dear lord, we imagine there may have even been dancing! We grow faint. Despite the innocent grins of Sonja Klinsky, Melanie Rousseau, Camellia Ibrahim, all geography master's students, we know that the comely trio were up to naught but debauchery at the Post-Graduate Students Association Masquerade Ball on February 13 at Thomson House. Perhaps their consciences were wiped clean by the funds they helped raise for Farha Foundation for AIDS awareness.
Owen Egan
McGill presents to parliament
Philip Fine
The Quebec parliamentary inquiry into the state of higher education allowed McGill administration to make their pitch to rationalize the funding process for universities and allow universities to tap new sources of income.
Penny pinching and power
Bronwyn Chester
The McGill Energy Week was a success, with a power consumption reduction of 8.2 percent in the three monitored buildings. But Environment Officer Kathleen Ng said more needs to be done in terms of awareness.
Birks Lecture on Islam
Mark Reynolds
The study of Islam has changed several times over the years, and the future for the discipline is looking bright, according to Azim Nanji, Director of the Ismaili Studies Institute in London. Nanji came to McGill to deliver the annual Birks Lecture sponsored by the Faculty of Religion.
Visions of Shakespeare
Mark Reynolds
Shakespeare — both the man and his plays — through the eyes of artists is the subject of a display in the McLennan-Redpath library curated by Richard Virr.
Saving Karelian
Maeve Haldane
Karelia is a small republic within the Russian Federation, struggling to hold on to a threatened language that is the subject of Russian and Slavic Studies professor Paul Austin's research.
Wallenberg Lecture
Ian Popple
Saad Ibrahim spent 300 days locked in an Egyptian prison for promoting civil society in that country. He recently delivered the Raoul Wallenberg Lecture on Human Rights.
Student journals: publish and prosper
Omar Sachedina
Undergraduate students are publishing their academic work in student-run journals.
McGill conference debates the future of cities
Zack Taylor
Ex-Montrealer Zack Taylor (BA'95) returns to town to report on the MISC conference. He is now a Toronto-based urban planner and designer, and is teaching a course at the University of Toronto on the urban landscape.
Delivering the goods
Mark Reynolds
Through rain, and sleet, and swarms of crickets McGill's mail service handles 1 million pieces of post a year — and the occasional puppy.
Branching out with math
Maciej Kotowski, SPARK writer
Pierre Dutilleul is a statistician who studies trees. Examining how branching patterns affect light-gathering efficiency in plants can improve our understanding of photosynthesis, and by extension, food production and the environment.
Face off against injury
Sara Strawczynski SPARK writer
Hockey is Canada's passion — but it's a dangerous sport, even when you are wearing all your safety gear. David Pearsall is a McGill researcher who is studying helmets to fine-tune their protective properties for all players.
Domestic goddess Judy Campbell-Gordon; Foundations: Pioneering McGill librarian Margaret Ridley Charlton was named a Person of Historic Importance by the Government of Canada. The multi-talented Charlton broke new ground in her profession at McGill.
Senate report: Interim harassment policy causes procedural difficulty, health and safety audit and discipline report presented.
Re-imagining the human sciences in Canada: SSHRC's transformation; McGill's happy postdocs.
Savoy celebrates its fortieth with the Pirates of Penzance, the McGill Drama Festival gears up again, film and ethnicity intersect on campus and Allan Luke explains why the future of education is in Asia.
Continuing Education instructor James Archibald says Quebec needs to do more to make sure that immigrants who come to the province are given the support they need to learn French; Ethnographic Film Fest hits Montreal; enter the Meatrix.