Seana Pasic: Back to Bosnia
As a child growing up in Sarajevo, she kept journals that described life in a wartorn city. She hoped that, if she died, her journals would be found.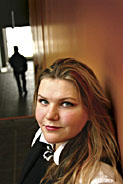 Claudio Calligaris
Last November, Seana Pasic, now an undergrad student of political science at McGill, shared a Gemini Award with director Raymonde Provencher and Catherine Hébert for research she contributed to the documentary, War Babies.
The film, which weaves together the stories of women raped during wars in Bangladesh, Rwanda, Bosnia, Korea and Nicaragua, also won Gemini Awards for best documentary, editing and sound.
At the age of 15, she immigrated to Montreal with her mother and brother. By the time she was 20, she had learned to speak French and English, and was a social sciences student at Dawson College.
Pasic is foremost a singer. From the ages of 11 to 14, she sang with a girls's choir three times a week. "Singing makes life make sense for me," she says. She was performing as a singer and dancer at Café Sarajevo when the producers of the Radio Canada program Les enfants de la guerre found out about her. Her childhood experiences made her a natural subject for the documentary series, which had her travel back to Bosnia to interview child survivors.
When Raymonde Provencher, the director of War Babies, heard that Pasic was going to Bosnia, she was quick to contact her. Provencher had already been on two unsuccessful trips looking for a woman willing to talk about her experiences as a rape victim during the war.
So in the summer of 2001, Pasic found herself in Bosnia conducting research for two documentaries.
The premise of Les enfants de la guerre — that children who grow up with war are particularly resilient and capable — does not strike Pasic as entirely accurate. They are strong, she says, but they cannot progress in a country that is still reeling from the aftershocks of war.
"There are children whose hair turned grey, overnight."
For Provencher's project, Pasic went to international aid organizations, a concentration camp and a conference where a group of rape victims organized a petition that called for rape of women held by the Serbs to be recognized as a war crime.
She made a direct appeal to the women there: If a documentary on wartime rapes was made, and Bosnia was not mentioned, the atrocities they suffered would continue to be denied, and the perpetrators of those crimes would win.
Finally, a woman agreed to tell her story, on the condition of anonymity. She and her 17-year-old daughter had been captured at Visegrad and held in a hotel by Serbian soldiers. The mother spared her daughter some of the experience by giving her sleeping pills.
The stories told in War Babies are horrific; one wonders if the average member of the public will stick it through and hear them out.
"But the women we interviewed are so brave!" says Pasic. "To me it is inspiring."
"Everybody who worked on the film was affected. It gives us strength to go on. You see these women who were raped and lost their families and still they go on."
Pasic returned to Bosnia in October two weeks ahead of the film crew and stayed for five days of the shoot. She translated, scouted out locations and even took part in the re-enactment of events. Re-enactments had to be done swiftly, as they were filming in a building in Visegrad occupied by Serbian refugees. "We had to do it really fast not to be caught," she says.
The visit the film crew paid to the Serbian owner of the hotel where their subject was raped was unnerving. Predictably, he was hostile to the film crew. Pasic and Provencher tried to keep him occupied while their cameraman got all the shots he could of the building.
Compared to hearing personal testimonials of war, Pasic finds attending a typical university lecture a more harrowing experience.
Last semester, her courses in history and political science related to war in Bosnia. Confronting the misconceptions surrounding the war, and the inaction of international organizations, was heart-wrenching.
"When people said that it was a religious war, that is just ridiculous. I am Muslim, and I sang Christian songs at a church with [the Christian] choir, and we sang traditional Muslim songs. We made no distinction."
"I thought that everybody was concerned about the war. Now, taken from an intellectual perspective, you see that it wasn't even considered. It's painful when you see how certain decisions were made."
Although she is a talented singer, she plans to study international law to attain her long-term goal of working for the international criminal court and focusing on the rights of women and children.
Pasic hopes to publish those journals she kept as a child. Some of the facts of life she reported so coolly during her childhood she now finds incredible.
She remembers keeping the news of massacres to herself so her parents wouldn't stop her from attending choir practice. The walk to the rehearsal space, which would normally take 20 minutes, took an hour during the war because the children had to avoid sniper alleys. "Many times I was on a corner five minutes before a bomb went off."
Pasic is planning a screening of War Babies at McGill this semester. Call Macumba International for more information about War Babies at 521-8303. You can learn more about Pasic's story on an upcoming episode of "D'ici et d'ailleurs" focusing on Bosnians living in Montreal. The program will be aired on TV5.
Jennifer Westlake
We believe everyone should have access if they make the grade.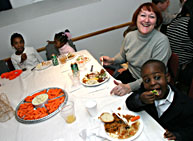 University resolve
The champagne has been drunk, the party hats put away for another 12 months — we're already into the New Year, and now all that remains is long hard slog of meeting our resolutions. We here at the Reporter have a few of our own. To not verb our nouns, to resist the urge for senseless punnery in headlines (except when it's really funny), to finally remember that spellcheck has no idea of what the difference between principle and principal is. Those are a few of ours — we asked around campus for yours.
Kate Rhodes (President, SSMU): "My resolution is to have every student at McGill realize for five minutes that they are the reason for this university and for the SSMU."
Nathalie Cooke (Professor of English): "Each day I shall: Walk the dog after dinner (thereby gaining brownie points for taking a few quiet minutes for myself!); eat (rather than skip) lunch; write a handwritten letter on decent stationary; and, at work, I vow to file not pile (especially when I am tempted to pile papers on the floor!)."
Ingrid Birker (Curator, Paleontology Redpath Museum): "My one resolution is to take off every Friday afternoon (or lunch) as a professional development excursion. After 23 years at this museum (McGill's) I am going to go on the town and check out what other Montreal museums do and probably learn something about the cultural business outside of the Roddick gates."
Martha Crago (Dean, Graduate and Post Doctoral Studies): "Think big and eat small."
Lydia Martone (Manager Office of the Vice-Principal, Administration and Finance): "The usual stuff — like, quit smoking (yes, again!); work on life-balance and reduce my 50+ hours workweeks; spend more time with my son, my family, and other loved ones; catch up on reading; carve out more 'down time' for myself for soulful things."
Peter M. Milner (Professor of Psychology): "It is probably an indication of the extent to which the tradition of New Year's resolutions has declined that your question was the first reminder of it that I have had this year (and possibly for several years)... I was certainly aware of it years ago, but I cannot remember ever having made one. If you want to change your lifestyle, New Year's Eve is not a very propitious time to think about it."
Your respiration and overall metabolism remain high for 12 hours after vigorous exercise. And when you're fit, your resting metabolic rate is higher. It's supporting a bigger muscle mass, which is what's burning off your calories.