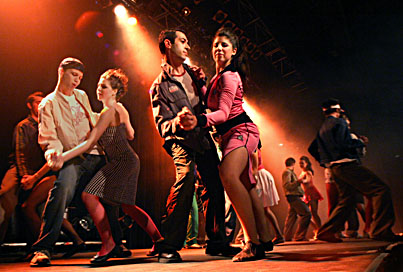 Only three years old, and already McGill's chapter of Commerce Administrative Student Charity Organization (CASCO) throws one of the best parties in town. On November 22, the group threw a bash at le Medley on St Denis. The theme was Rewind... a journey through the decades — here Brian Schreiber and Alison Glube (centre) dance to hits of the 80s. Attendees were treated to a fashion show, and true to CASCO's mercantile roots, a silent auction and marketplace. Funds raised went to the Montreal Children's Hospital.
Owen Egan
Steering success: Roulet's challenge
Bronwyn Chester
Nigel Roulet wasn't asking for the job, but the new director of the McGill School of the Environment has big plans for the future.
While the world watched
Mark Reynolds
Romeo Dallaire, who headed the failed UN to Rwanda during that country's civil war and genocide spoke to a McGill audience about his experiences there, and asked the question: are some humans more human - and deserving of help - than others?
Trottier, Andermann win Prix du Quebec
Two members of the McGill community honoured for contributions to science and medicine.
Fingerprinting the bacterial bogeyman
Bill Gagné
Researchers in the Department of Food Science have developed a way to quickly identify bacteria. The technique could save time - and lives.
Med students lobby
Craig Stein
The McGill International Health Initiative was founded by medical students who want the Canadian government to help alleviate the AIDS crisis in the developing world by making cheap medications available.
Body of Work
Maeve Haldane
The artists of the Molson Informatics Project create portraits of our innards for clinicians and teachers.
Tropical haven for field courses
Ian Popple
The Bellairs Research Institute is growing. The university-run Barbados facility is a hot spot for tropical research and field studies.
M-Forum report
Sylvain-Jacques Desjardins
Keep innovating, keep sharp, and stay relaxed were some of the messages to participants of the Fourth Annual Management Forum Conference held November 12.
Ombudsperson leaves with recommendations
Maeve Haldane
Carol Cumming Spears said a lot of disputes that crossed her desk as ombudsperson could have been avoided with clear rules, better communication and more respect on all sides.