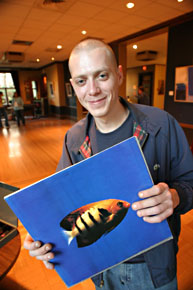 Owen Egan
MUNACA negotiations
Mark Reynolds
The University and the support staff union are in contract negotiations. Among other issues at stake are how many hours staff will be expected to work.
If I were Prime Minister...
Mark Reynolds
Four McGill students are finalists in the annual Magna Inc. "If I were Prime Minister" essay contest. The Reporter talked to each about their ideas that could change the nation.
Trigger: Understanding early civilizations
Maeve Haldane
Anthropologist Bruce Trigger has a new book on what makes civilizations different, and what binds them together.
Minding the monarchs
Bronwyn Chester
Lincoln Brower has been studying the monarch butterfly almost all of his adult life. He recently spoke at McGill about the beautiful bug, and about the many threats to its survival.
Biosafety protocol discussed at McGill
Fernando Buttani
McGill hosted an expert panel to mark the entry into force of the Cartagena Protocol on Biosafety. The importance and problems of the new international agreement which regulates the movement of living modified organisms.
Summer school
Craig Stein
So what did you do with your summer holidays? Five McGill students spent them working in camps and hospital wards from Mexico to Uganda.
Molson Stadium without Mother Nature
William Gagne
McGill has a brand new playing surface in the Molson Stadium -- and it never needs to be mowed. Welcome to the green joys of FieldTurf.
Sylvia Franke faced a mountain of applications in her first September as McGill's registrar -- kind of like the time she tackled a mountain in Europe on a bicycle. Her work is a blend of overseeing a staff of ninety, managing the application process, and reassuring students who are trying to get into McGill.
McGill grad Bob Kull spent a year as a modern Robinson Crusoe in pursuit of his PhD at UBC. 18 wheels and several tons of computing power stopped by McGill on September 18 -- one stop on SGI Mobile Innovation Centre roadshow.
Senate report, Research awards
McGill is lending a hand around the house in CBC's Montreal Matters special on the home. Tilting is a town in Newfoundland that you can visit through Robert Mellin's exhibit in the architecture department. Larry Hamilton is the mountain man, and he's bringing his stories and slides for your viewing and listening pleasure. In a strange twist of fate there are three books of importance to Quebec being launched on September 30 -- read 'n run!
Mea culpa: Karl Moore and Laurette Dubé explain how marketers super-sized you and your children, and reveals the conspiracy of the stretch-pants. The McCord museum wants to take you out for hop-Scots, while the Montreal Bread Company can sell you a Euro-style lunch. And if you want to buy a bike or sell your home, there are plenty of local websites for your independent consumer needs.