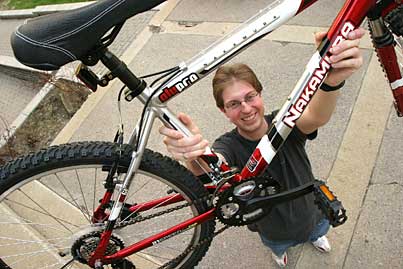 Simon Mastorgiuseppe, a first year Civil Engineering master's student is all grins as he hoists his brand-new $600 mountain bike. Mastorgiuseppe won the wheels (which will replace the bike stolen from him last year) by participating in the AlléGo@McGill project survey, which seeks to better manage McGill transportation issues. More prize winners will be announced this week. To learn more about Allégo check out www.mcgill.ca/rethink.
Owen Egan
Sylvain-Jacques Desjardins
Feeling down about yourself? Doctoral students working under Mark Baldwin, an associate psychology professor have just the remedy – video games!
Bronwyn Chester
It's always gratifying to see one's offspring grow up and do well. Gemin X Biotechnologies, a McGill spin-off company recently gave McGill a heck of a Mother's Day gift: a $100,000 donation to the Nuclear Resonance Spectrometry Centre.
Shannon Devine
Philosophy professor Eric Lewis decided at age 40 to take up the trumpet again. Not a remarkable resolution, except for also being inspired to shift his research focus from pre-Socratic philosophy to Afrological music and improvisation.
Ben Kennedy, SPARK writer
The chemical make-up of the atmosphere is complicated, made even more so by the micro-organisms floating around. Chemistry professor Parisa Ariya's research shows the effect of bioaerosols on our climate is greater than previously thought.
Balbir Gill
Is a good healer born? Is the ability to foster emotional connections with a patient something a healer is born with? Not necessarily, according to the editors of Emotional and Interpersonal Dimensions of Health Services: Enriching the art of care with the science of care.
Ellyn Kerr
Henry Mintzberg is a Management professor who believes that business schools are getting it all wrong. In his book Managers, Not MBAs he lays out a case for reforming how managers are educated.
Mark Reynolds
The Instructional Communications Centre is hard at work bringing more high-tech services to teachers.
Ian Popple SPARK writer
The queen conch has been dethroned in her undersea realm, and biology PhD candidate Alex Tewfik says the usurper – the sea urchin – has been aided and abetted by man's meddling.
Kyle Simpson is sailing the Arctic Ocean for his second stint of field research for his Master's in Biology.
As administrative officer in the Department of Medicine and the MUHC, Christine Dolden handles vacation schedules, appointment forms and manages office space for nearly 700 staff. She recently won the Anne McCormick for Excellence in the Faculty of Medicine.
Get your buns in the barn for the annual Mac Campus BBQ.
Yael Hartmann used to be vehemently against the tactics of the Israeli Defence Forces. Then she got a job as a media liaison officer with the IDF. Also, Booster Juice comes to Montreal; living as a hobo, and dig out your skinny ties for some local high-school reunions.