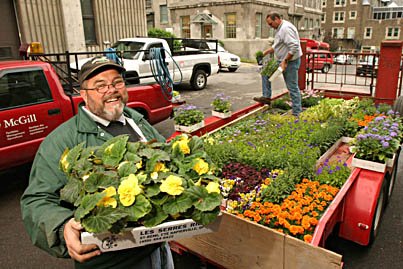 Richard Coleman of the grounds department in facilities management moves a box of flowers from a trailer of its leafy fellows while Ross Smith works in the background. The grounds department has been preparing campus for convocation, to provide as beautiful a backdrop as possible for the thousands of snapshots that will be taken of happy graduates and their families.
Owen Egan
Preparing for convocation
Mark Reynolds
For her third and final year as University Marshal, Kate Le Maistre was given quite a challenge — to manage 10 different convocations, nine of which would be held outdoors for the first time in over 30 years.
Also for Convocation 2004:
Northern grads of McGill
Leaving McGill: Telling tales out of school
Climate study pioneer gives talk
Convocation on screen
Honorary doctorates
Professors emeriti
Lobby group for Quebec researchers
Sylvain-Jacques Desjardins
Scientific researchers now have a voice defending their interests in the offices of politicians and policy makers.
McGill torch song
Principal and BOG head hoist Olympic flame when it comes to Montreal.
Douglas research centre turns 25
Maeve Haldane
The Douglas Hospital Research Centre throws open its doors to mark 25 years of operation. Go, and you can see the brains — literally — behind the research there.
Studying autistic kids
Balbir Gill
Jake Burack and the McGill Youth Study Team look at developmental disabilities in kids.
Heather Munroe-Blum: Looking back, thinking to the future
Maeve Haldane
The Principal looks back over her first full academic year at McGill: the accomplishments, challenges and aspirations.
Teaching alternative medicine
Meera Karunananthan
Four years ago, epidemiology professor Jean-Paul Collet went to China, where he saw modern medicine mixed with alternative and traditional treatments. He brings this integrated approach to McGill in a summer course for graduate students.
Modelling the future
Maciej Kotowski SPARK writer
Civil engineering professor Patrick Selvadurai uses mathematical modelling to improve any number of complex engineering projects — for instance, how soil around pipelines freezes or how the disposal of nuclear waste will have an effect on the earth thousands of years from now.
Finishing school for grad students
Shannon Devine
Plenty of students start graduate degrees, but not all of them finish. A colloquium organized by the office of the Dean of Graduate and Postdoctoral Studies examined the problem of grad school attrition.
Macdonald campus: All's busy on the western front
Stephanie Whittaker
Macdonald campus in Ste. Anne de Bellevue was created in 1907 to improve the lives of rural people in Quebec. That mission remains, but the cutting-edge technology has changed dramatically.
Also:
The magic of mushrooms
Putting our eggs in two baskets
Senate: The long goodbye
Mark Reynolds
The last Senate meeting of the academic year covered a range of hot-button issues: the budget, student representation, ethics of human research and French language policy.
McGill on the Silver Screen
Maeve Haldane
Geography professor Wayne Pollard — or Wayne Pollard's office — gets a cameo in the summer disaster movie The Day After Tomorrow.
Portrait of an artist: Max Stiebel is leaving McGill after 29 years of drawing and designing education and information materials for the university. What's next? Perhaps a career as a portrait artist.
John James Audubon is finally being recognized in Canada with postage stamps of his own, thanks in part to the efforts of management lecturer David Lank.
Much ado about dinner: Learn the historical context of why, exactly, the dessert spoon is supposed to go where it does at the McCord's new exhibition on table settings.
Grill of my dreams: Join the McGill Women's Networking Group at their annual barbecue.
Urban wildlife: Got a problem with raccoons in your garbage? Want to attract robins to your feeder? Call the urban wildlife hotline.
Summer at McGill: Things may be slowing down on campus but there's still plenty to see and do.
Indian people opt for secular democracy: Pharmacology professor Daya Varma gives his analysis of the recent elections in India, the world's largest democracy.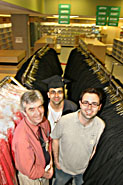 Left to right: McGill bookstore workers Jack Hannan, Marcel Abou-Assal and Anthony Szabó stand among the racks of just-received graduation robes rented from D. Milne Tailors. All graduands go to the lower level of the bookstore to pick up their convocation garb for the ceremony.