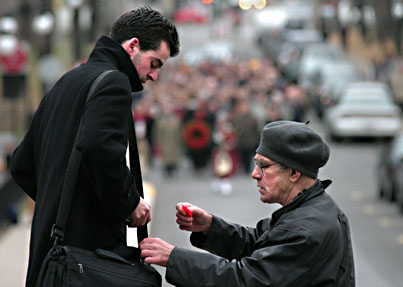 Owen Egan
Inside Sauvé house
Sylvain-Jacques Desjardins
More than a dozen ambitious students from around the world are the first Sauvé Scholars at McGill. The international group comes from around the world for a new program that aims to expand their understanding of the world.
21st-century machine shop
Sylvain-Jacques Desjardins
Mighty oaks from tiny acorns grow, and acorns don't get much smaller than the materials that will built at the Tools for Nanoscience Facility, opened November 10 in the Rutherford and Wong buildings.
McGill rises in Maclean's
Maeve Haldane
McGill rose from third to second place in the annual Maclean's rankings of Canada's universities. University of Toronto came first in the medical/doctoral category.
New president for SSMU
Fernando Butani
Kate Rhodes is the newly elected president of the Students Society of McGill University.
Trading nations: Fulbrights and McGill
Maeve Haldane
Joelle Schmitz is a Fulbright Scholar who recently arrived at McGill to study interprovincial and international trade. She's the 26th Fulbright scholar to study here.
Gender bender
Mark Reynolds
Now that McGill's student population has become 60% female at the undergraduate level, people are starting to ask why this is occurring and, more importantly, do we care?
New professors
Bronwyn Chester, Balbir Gill, Maeve Haldane, Ed Kromer, Mark Reynolds, Jack Ruttan, Jennifer Westlake
McGill hired a record 121 professors this year. We profile 8 who study memory, music, memory of music, management and more.
Policy Matters
Senate report
: Senate discussed the policy on political events on campus and the planning cycle was explained by Provost Luc Vinet.
Market hits pensions
: Canadian universities have seen their pension funds take a hit in the recent economic downturn.