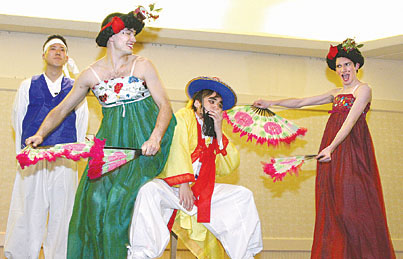 Skits, songs and dancing were the order of the night on April 2 as the Korean Studies Program hosted their annual Korean Culture Night in the New Residence Hall. Here, students enact Chungyang in front of their fellow students and such luminaries as Soo Taek Rhee, the Korean Consul General for Montreal.
Owen Egan
Bishop's head made VP
Mark Reynolds
Janyne Hodder, currently Principal of Bishop's University, will become McGill's first vice-principal (inter-institutional affairs). Her job is to strengthen the university's relations with external bodies.
Flu in the coop
Sylvain-Jacques Desjardins
Microbiology professor Brian Ward discusses the implications of — and possible solutions to — the Avian flu virus that is now appearing in Canadian livestock.
Dining at McGill
The university will be taking more time to examine how food services are delivered on campus. A new committee with staff and student representation will study the issue over the next year.
Psycholinguistics: studying speech processes
Mythri Kappagantula SPARK writer
Psychology professor Debra Titone wants to explain how we understand and use language by studying how schizophrenics process idiomatic expressions.
Just a spoonful of marketing
Bronwyn Chester
Pharmaceutical company executives must want to reach for their own little yellow pills when David Healey speaks. The author of The Anti-Depressant Era, Let Them Eat Prozac gave a rapid-fire survey lecture at McGill on just how the boom in the prescription and consumption of antidepressants came to be.
From Paris to the Moon
Mark Reynolds
Three McGill students are on their way to Paris for a make-up exam. The trio are finalists in the L'Oréal E-Strat online case competition.
Chambers to be MCRTW Person of the year
Balbir Gill
Gretta Chambers has been named the McGill Centre for Research and Teaching on Women's person of the year. McGill's first woman chancellor, Chambers has had a long career in journalism and is active in a range of community concerns, from hospitals to education to art.
Rethinking green
Shannon Devine
The university recently held its annual Rethink Campus sustainability conference. A forum for the university to give a report on progress to date and for the community to make suggestions as to where to go in the future, the conference addressed everything from waste management to commuting.
Sounds of the future: On-site at McGill's new music building
Elsa Lam
In addition to a 200-seat recital hall, a new home for the Music Library and specialized production and research labs, the new music building will feature a "beautiful-sounding box," a freestanding space large enough to accommodate a full orchestra and chorus.
World leader in laser research
Sylvain-Jacques Desjardins
McGill researchers will soon have access to one of the world's most powerful multi-wavelength lasers for their experiments. Physics professor Mark Sutton explained that the new Advanced Laser Light Source (ALLS) project will bring together biologists, chemists and physicists from Canada to Japan.
Biotech MSc first for Quebec
Ian Popple
The rapidly growing field of biotechnology is a major employer in Quebec. McGill's new Master's degree in the field is an interdisciplinary program that will train students for careers in everything from pharmaceutics to environmental technology.
Ryan Tomicic is all wet, but that didn't stop him from winning McGill's athlete of the year award. The McGill swimmer has been on fire in the water this year.
Viva Voce gives melody to Mary, get your greenery at Macdonald campus, Sandra Phillips has tips for dressing for success while keeping your credit cards from overheating, and Wildlife Conservation Society head Steven Sanderson talks about the impoverishment of nature.
Vesselin Nedkov spent 57 hours as a hostage to Chechen terrorists in a Moscow theatre in October 2002. Now the McGill MBA student shares his story. Also, catch a poetry reading at Blizzarts, Maisonneuve magazine shows some art.