Well-travelled Rhodes
Ed Kromer | Alexandra Conliffe blows in from a December howl, looking the picture of the Canadian Everystudent in blue jeans, parka and backpack. But this is not your average undergrad. A fourth-year honours mechanical engineering student, rower, pianist and founder of McGill's chapter of Engineers Without Borders, Conliffe is one of three McGill recipients of the 2004 Rhodes Scholarship — one of only 95 around the world chosen annually to study at Oxford on Cecil Rhodes's shilling. She offers an unnecessary apology about her attire, as if we had expected robes, tablets and angular academic headdress. "Sorry I don't look more Rhodes Scholarly," she says, "whatever that is."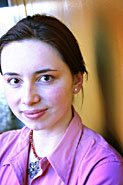 Claudio Calligaris
The modern Rhodes Scholar is not what she used to be. Truth is, women wouldn't even have qualified back in 1904, when Rhodes endowed the funds to provide the best British education to the brightest of loyal subjects in the sprawling colonies (and former colonies), with an ulterior motive of promoting an ideological British Empire as elusive to sunsets as the geographic one was at the time.
Conliffe, second-year medical student Aleksandra Leligdowicz (who applied from Manitoba as an undergrad) and 2003 Arts graduate Simon Rabinovitch embody all of the intellectual acuity, integrity, athleticism and leadership demanded of classical Rhodes Scholars. But they are not keen to participate in empire building, ideological or otherwise. Rather than loyal subjects, they see themselves as citizens of the world. Their intellect is bound by a respectful cultural curiosity. Their interests are all over the map.
"It is something of a cliché to say that the world is a smaller place than ever before, but that's because it's true," emails Rabinovitch from Beijing, where he is studying Mandarin and Chinese culture in advance of graduate studies in Sino-Western relations. "The twentysomethings in the developed world of today are the most internationally mobile twentysomethings to have ever lived. I'm a product of the times. I have many, many peers who are the same, dissatisfied with only seeing the world from the place in which they were born."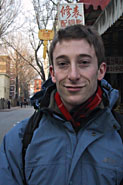 Rabinovitch's distance is affording him a focus that was not possible in the hustle of his undergraduate years. Fueled by Tim Hortons' coffee, he crammed his days and nights with studies, competitive running, intramural ice hockey, and a "full-time job on the side," writing and editing at the McGill Daily. To fill the quiet moments, he also staffed the World Economic Forum, took part in McGill's United Nations Students's Association, taught literacy and worked alongside Mexican migrant labourers, and created the Downtown Course for Humanities, moderating literary discussions among people without access to university education.
Given the opportunity at Oxford, Rabinovitch plans to keep himself outside his known world and delve even further into the superpower that remains mysterious to this day. "It is sometimes said that China and the West, especially the United States, will be the natural rivals of this century. A rivalry doesn't have to be a dangerous thing. It can actually be very healthy for the main countries involved and for the rest of the world," he adds. "But for that to be so we must have more people contributing understanding between China and the West."
Leligdowicz began cultural mixing by necessity at 10 years of age, when her family immigrated to Canada from Poland in search of greater opportunity. "My parents did it for my future and my sister's, because we had a good life there," she recalls. "I think that had a lot of impact on me later in terms of not being afraid to take risks."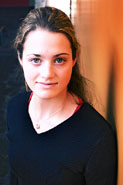 Claudio Calligaris
Fascinated by the sciences since childhood, Leligdowicz studied microbiology at the University of Manitoba, and has done research in immunology at the Manitoba Institute for Cell Biology and the McGill Cancer Centre. But for her, medical research must be coupled with practice. And last summer's work in shantytown clinics across Peru opened her eyes to a world beyond Canada's universal health care. She was especially touched by one surgeon who offered his services to people of remote villages. "But he wasn't imposing his service on the people of the jungle," Leligdowicz says. "He provided health care because people came an asked for it. His relationship between the natives and new medicine really inspired me."
She plans to work in clinics in Uganda this summer, then spend her Oxford years continuing her research in immunology under the guidance of a clinician. Afterward, she is committed to finishing her medical degree at McGill, then eventually serving, at least part-time, in places where health care barely exists, for her patients and herself. "Every time I go away somewhere, I learn a lot about other people," Leligdowicz says. "But I also learn a lot about myself — about my limitations, about the heights I can achieve."
Conliffe's engagement with Engineers Without Borders has provided some overseas clarity, as well. After having her eyes opened one summer teaching English in a Lebanese refugee camp, Conliffe spent last summer leading an Engineers Without Borders water desalinization project in Uzbekistan ("which had a lot of people fumbling through the atlas," she says). There, a local man posed a provocative observation. "He said, 'I don't understand why foreigners know so little about us. You have uncensored news, you have high-speed internet, all this access to information. If we had that kind of access, I can't even imagine the things we could do.' It stung, and I didn't really have a good answer." Conliffe recalls. "Because it is true. And there are places just like this all over the world that we don't know about."
She intends to learn more and do more. At Oxford, she hopes to pursue a joint master's degree in environmental change and management, and development studies around forced migration, blending engineering with the social ethic. She hopes to eventually provide environmental consulting to international organizations or governments.
Here's a female Rhodes Scholar planning to leverage her opportunity at Oxford to work side-by-side with the world's forgotten people to help them create a better future for themselves through information and technology. "You do sort of have to wonder what Cecil Rhodes would think," Conliffe offers. "But he was a visionary in his time. And maybe he would be a visionary today. I think that anyone who accepts the Rhodes Scholarship thinks a lot about what it meant in the past versus what it means today. I think it does evolve. And it should evolve."
Rabinovitch is less diplomatic: "It is a poetic justice that the Rhodes Scholarship has evolved over time to reward people who dream of a fairer, more just international order — far removed from the world that imperialists like Rhodes tried to build."