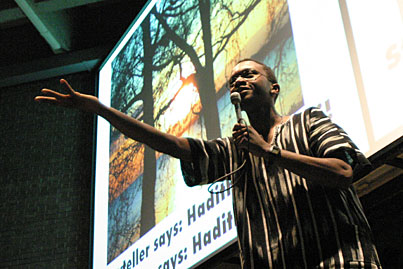 Traditional African storytelling got a high-tech boost in Leacock 132 on March 12, as the McGill Chapter of Engineers Without Borders hosted Raha Night. The celebration of African culture included music, dance, a fashion show and other entertainment. The evening was a fundraiser for the Operation 21 Overseas Placements, which will send a McGill student overseas on a one-year internship.
Owen Egan
Journey to the Red Planet
Scott McRae
With all the information pouring in about Mars making it increasingly likely the planet once held life, the next logical step is to send a manned mission. The benefits to doing so will be great, according to panelists at a recent lecture.
Seagram Building reborn as Martlet House
Sylvain-Jacques Desjardins
Sam Bronfman's old stomping grounds have been donated for use to Development and Alumni Relations. And although the name may have changed, some of the historic interior has been maintained.
Deux McGill
Mark Reynolds
When 400 French-speaking historians descended on McGill last October, history professor Brian Young wanted to give them an introduction to the campus. He turned to student filmmakers Matthew Rankin and Walter Forsberg, who cooked up a sly examination of McGill's place in Quebec.
Exploring a watery grave
Niki Boyd, SPARK writer
Mairi Best looks at the tropical reefs to better understand the fossil record over millions of years. This work takes her from the warm seas of the Caribbean to the frigid waters of the Arctic.
Living through colorectal cancer
Craig Stein
In October last year, Craig Stein was diagnosed with colorectal cancer. On the roller-coaster ride his life has become, he's met others, including McGill students, who are also coping with the disease.
Peter Smith says that what makes a successful coach is a successful team. He should know - as McGill's winningest coach, Smith has recorded over 100 victories with the women's hockey team. Despite competing with one hand metaphorically tied behind their backs, Macdonald Campus's team of bioresource engineering students managed to place second at a national design competition in Hamilton.
Senate report: The proposed policy for plagiarism detection software was sent back to committee amid a silent protest. Also, interim harassment policy presented, McGill is a source of spam.
A conference on print in the city examines how ye olde periodicals shape urban culture, Shakespeare gets a shake-up, McGill wants input on rethinking its environmental policy, and learn about the sex lives of our feathered friends.
McGill graduate Rees Kassen reflects on his brush with the Darwins, and makes a parallel with his own married life. Also, dancing for Gilda's Club, exploring New France online, and keep all your balls in the air at the juggling festival.