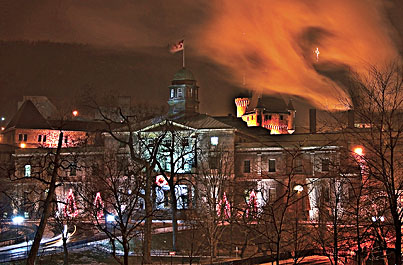 Winter light and mists create a spooky effect over the campus at night — returning staff and students may feel a shiver up their spine. Or is that the chill in the air? Take refuge from the cold at McGill's many indoor offerings this semester, such as plays and concerts, or embrace the winter by taking a walk on the mountain through the snow. Just stay warm, and welcome back.
Claudio Calligaris
Well-travelled Rhodes
Ed Kromer
Aleksandra Leligdowicz, Alexandra Conliffe and Simon Rabinovitch all come from very different backgrounds, but are all headed to the same place. The three are all headed to Oxford by being McGill's latest Rhodes Scholarship recipients.
MUNACA deal
Mark Reynolds
The administration and its clerical union have agreed on a new five year contract that leaves both sides happy.
Principal's prized professors
Maeve Haldane
A prof in a tank, a ranting psychologist, a physicist with a lead brick and the man from Brynania are the four winners of the 2003 Principal's Prize for Excellence in Teaching.
A meeting of religious minds
Mary Fowles
The Spanish city of Seville was the setting for an interfaith discussion on how religion can increase tolerance. Dean of Religious Studies Barry Levy was central to the planning of the international gathering.
West Island atlas
Mark Reynolds
Good decisions cannot be made without good information. In the West Island of Montreal, a lot of decisions are being made about development — but until now, they've been made without a lot of information. Geography professor Thom Meredith has assembled a team that has created an environmental atlas of the area, that covers everything from land use to bird habitats.
McGill newsmakers '03
Daniel McCabe
There's no red carpet or sexy gowns, or even a little statue. Nevertheless, it's our annual Newsmakers of the year round-up for those McGill folks, past and present, who made a splash in the world's media, from Leno to La Presse.
Reinventing the wheelchair
Balbir Gill
Linghua Kong's thesis project is on new product development, something the mechanical engineering doctoral student already knows much about. Kong has already won awards for a cost effective electric wheelchair that will increase mobility for people who rely on these machines.
Seana Pacic shared in a Gemini Award for her work on the documentary War Babies — a subject close to home, for the Sarajevo native. Another year, another resolution — we ask around campus to find out how you are going to make 2004 a better year.
A research star who researches stars (and won a Nobel in the process) comes to McGill, Daniel Taylor tears into tears, and Tuesday Night Café commits Crimes of the Heart.
Jill Barker gives some New Year's getting fit tips, and PhD comics explores the tragicomic world of graduate studies.