Kudo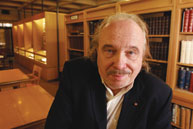 Owen Egan
Marc Angenot, a professor in McGill's French language and literature department for almost forty years, has been awarded the Prix du Québec's Léon-Gérin prize for his outstanding contributions to the social sciences.
The most prestigious awards bestowed by the Government of Quebec in all fields of culture and science, the Prix du Québec honour outstanding researchers whose careers have contributed to Quebec's scientific and cultural advancement in their fields.
Angenot, a world-renowned researcher, is widely considered to be the father of social discourse theory. He is the James McGill Research Chair on Social Discourse in the French language and literature department, and though he specializes in French literature from the 19th and 20th centuries, his vast body of work encompasses history, linguistics, politics, semiotics, as well as literature and literary theory.
"What I like most is to be busy doing lots of different and challenging things in different areas at the same time," says Angenot.
The author, co-author and contributor of over 50 books, Angenot has also published over 120 articles in scientific journals, as well as presented papers at over 120 colloquia and national and international conferences.
His newest book, Le marxisme dans les Grands récits, was published this month and he is presently working at another book, Dialogues de Sourds, which focuses on argumentation, misunderstandings and "dialogues of deafs" in everyday life and in politics. He also co-wrote, Vivre dans l'histoire au 20e siècle, with sociologist and novelist, Professor Régine Robin, (UQAM), which is to be published in 2006.