Operation challah
Student provides McGill ghetto with homemade bread
Erica Zelfand | Most Jewish students living in the McGill ghetto celebrate their Friday night Shabbat dinners with bread or wedges of pita in lieu of the traditional loaf of challah bread. But Elizabeth Alpern, a U3 Jewish Studies major with a flair for baking and an interest in business, is about to change the nature of Shabbat-à-la-Ghetto.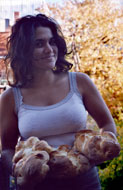 Erica Zelfand
From her apartment in the heart of the neighbourhood, Alpern has just started an independent challah-baking business, whipping up plain, whole wheat, chocolate chip, za'atar, vegan and raisin challot, all of which are baked early on Friday mornings. She even offers delivery to those living within the vicinity of campus.
The idea for the project came from a friend who, upon eating one of Alpern's challot told her, "I'd pay for one of these!" The comment appealed to Alpern's aspirations to some day open up her own bakery and inspired her to work actively within the Jewish community. "My goal is to bring good quality challah to those that don't have easy access to it for Shabbat and the holidays," she says. For those living in the ghetto, the nearest kosher bakery is in Montreal's Mile End - quite the schlep for a Friday afternoon's race to beat sundown.
The choice of challah as her specialty carries great weight for Elizabeth as well: "From a Jewish perspective," she says, "bread is really the food around which everything is centred. It is the most basic and beautiful food, and I'm really excited about sharing that with people."
To order your own specialty challah, contact Elizabeth Alpern at tkdliz@gmail.com.