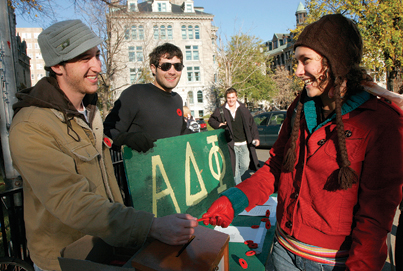 Owen Egan
McGill first in Maclean's
Jeff Roberts
Move over, buddy — McGill muscles its way to a first place tie with rival U of T atop Maclean's annual educational rankings.
Rock star geneticist
Hannah Hoag
Tom Hudson's breakthrough tracks the millions of tiny differences in our genetic code that lead to disease. But what does that have to do with Rolling Stones guitarist Keith Richards?
Denis Thérien named new VP Research and International Relations
Patrick McDonagh
Juggling aficionado and former child star Denis Thérien adds the title of VP Research and International Relations to his already eclectic cv.
Social conscience
Neale McDevitt
The School of Social Work gets a makeover with the arrival of new director Wendy Thomson and the new Philip Fisher Chair, Nico Trocmé.
Something for everyone at Management Forum
Neale McDevitt
Goal-setting, task forces and a turf war with geneticists; our intrepid reporter gives blow-by-blow account of one-day M-Forum.
Principal's Prize rewards fab four
James Martin
The cream of McGill's teaching crop earns kudos — and a nice lump of cash — as recipients of the Principal's Prize for Excellence in Teaching.
Mental health bottom-line issue
Rena Okada
Expert panel cites employee mental health and happiness as keys to business success.
Mathias Leblanc: All creatures great and small
McGill's Dr Doolittle, Mathias Leblanc, combines his love of animals and people in his new job as University Vet.
Sweet scholarship
Toothsome conference at the McCord Museum satiates food lovers' appetite.
Around campus
Superstring superstar, mastering the master plan, Five Years over nine days, and concerts to raise funds and spirits.
Twelfth Night redux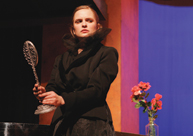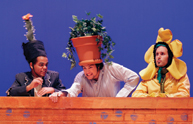 Owen Egan
Here's a smattering of some of the colourful costumes by Catherine Bradley and her costume class for Twelfth Night, which has been given a sharp update by English professor Sean Carney.