Smile! You're in dental outreach
James Martin | This weekend, you can help disadvantaged people get much-needed dental care and pick up a bookshelf with a kooky Swedish name - all in one fell swoop. On November 26 and 27, dentistry students will pack bags at IKEA in Ville St. Laurent. All customer donations will go toward the Faculty of Dentistry's Outreach Program; last year's IKEA initiative raised $2,000.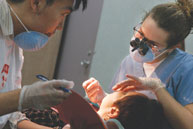 Owen Egan
The Outreach Program, winner of the Canadian Council for the Advancement of Education 2005 silver medal for Best Community Outreach Program, is Quebec's only completely mobile dental clinic. From lights and dental chairs to ultra-sonic cleaning units and sterilization equipment, the entire operation literally fits into a truck - and can be unpacked and readied for action in a mere 45 minutes. (Electricity is the only required on-site resource.) Each year, the non-profit Outreach Program runs eighteen evening clinics at rotating locations across Montreal, offering basic dental care - examinations, cleanings, oral cancer screenings, hygiene instruction, minor extractions, denture adjustments - to people of all ages who cannot otherwise afford or access care. The program also aims to reduce psychological stress by treating patients in the comfort of their own communities. Patients include the elderly, recent immigrants, homeless people, the working poor and people with physical or psychological challenges. Treatment is offered free of charge.
The initiative began in 1998 with six clinics, arranged in conjunction with three referring agencies. Today the Dentistry Outreach Program works through 24 community agencies and groups, including Sun Youth and Dans la rue. (The groups screen potential patients to ensure the most financially needy receive care.) Each clinic focuses on a particular demographic; earlier this month, for example, the program treated adult patients from the International Buddhist Progress Society's extended community.
The Outreach Program is entirely staffed by volunteer clinicians and staff. The clinic began as a way for fourth-year dentistry students to gain some hands-on experience, then evolved to include junior students. Effective this year, program participation forms a mandatory two-credit course called "Community Dental Clinics," to be completed by students during their four-year training.
"It started out with students asking, 'Why do we have to do this?'" recalls Judiann Stern, Outreach Program coordinator. "Now they're excited about participating. The clinic exposes them to communities they wouldn't otherwise see. It's expanding their education.
"The program introduces first- and second-year students to hands-on dentistry in a psycho-socio manner. A dentist office is bright and cheery, which can often make Outreach Program patients - who live on the margins - feel they can't afford dental care. We want to provide a friendly, non-judgmental environment where they feel comfortable coming."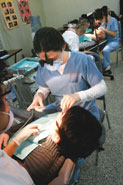 Owen Egan
Clinics run from 6:30 to 8:30 pm. Third- and fourth-year students perform examinations and treatments; each student sees approximately two patients per evening. First- and second-year students work as dental assistants. Dentistry professors Bruce Dobby and Yu Kwong Li, Outreach Program co-directors, float among the six units, reviewing exams with the students and helping decide what treatments can be done given the scope of the clinic and the evening's patient load. Patients requiring X-rays or advanced oral surgery are recommended to one of six additional day clinics held at the Montreal General Hospital's McGill University Undergraduate Student Dental Clinic. (Radiographic capability is on the Outreach wish-list but, says Dobby, "that would cost $30-40,000, so it's a long-term goal.")
"It's not simple work, " says Nicole Nicolas, a fourth-year student who has volunteered with the program since 2002. "But it can be done well in the time available."
Nicolas says each community brings with it a unique set of challenges, whether it's mobility issues when dealing with elderly patients, or relying on non-verbal expression to communicate with Buddhist patients who don't speak French or English. All of which only serves to make her Outreach Program experience more rewarding.
"I love seeing people happy when they walk out of the clinic," she says. "I love seeing them smile, and the satisfaction you get from helping people in need get better oral health and hygiene."
The program performs on average $50,000 worth of services, but free dentistry doesn't come cheap. The program relies entirely on donations and fundraising initiatives like this weekend's IKEA bagging event. "Outreach has great support from the student body," says Dobby. Student fundraising activities include a silent auction, a Survivor pool and an annual Chinese New Year dinner. The community at large, dentists and others, also contributes to the program's livelihood. The Canadian Dental Association donated money from its annual dinner and manufacturers regularly contribute dental supplies. An area businessman (who asks that his name not be publicized) not only donated the Outreach Program truck, he pays for its upkeep.
Like all the program staff, Dobby comes to the evening clinics after a full day's of work. "It's tiring, but it's the best tired I've ever had." He cites three reasons for his involvement. "I get to work with students as they learn how to do real-life dentistry in a timely manner," he says. "Plus, we're doing dentistry on people who really need help.
"The third reason: Let's be honest, when these students graduate, they'll be leading pretty comfortable lives. But there are a lot of people who fall through the cracks of society. I think it's important for these students' education to instil a modicum of social responsibility - to develop the idea of giving something back to society through your career."
"It's such a great experience to make a difference in somebody's life," adds Nicolas, who graduates next April. "This kind of work is something that I'll definitely be doing for a long time."