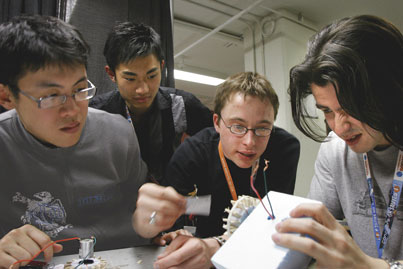 Civil Engineering students Brian Yung, Tung Shum Lai, Kevin Barrest, and Andy Woo take part in the Quebec Engineering Competition, as one of the senior design teams. Once the students received their materials and secret instructions, they had 16 hours to make a device to rescue stranded citizens from around the city. The team's ingenuity paid off - they came second in Quebec.
Owen Egan
ED linked to disease
Hannah Hoag
MUHC researcher Dr. Steven Grover shows erectile dysfunction is a possible indicator of future vascular health problems, including heart disease, stroke and diabetes.
McGill duo scales Olympic mountain
Neale McDevitt
McGill Chancellor Dick Pound and Martlets head coach Peter Smith will be winging their way to Italy to take part in the 2006 Turin Olympics.
Flamenco forensics
Philip Fine
Clapclapclapclapclap, Ole! Computer scientist Godfried Toussaint delves into the rhythm of Spanish dances to discover their ancestry.
Beneath Bolivia
Gregory De Pascale (WARM-SPARK writer)
Anthropologist Nicole Couture uses everything from a magnetometer to fresh llama fetus to prepare for digging in the pre-Incan city of Tiwanaku, near Lake Titicaca in Bolivia.
Milton finds Paradise in the skies
Jeff Roberts
Air Canada CEO waxes poetic about the lofty world of the airline industry as part of McGill's CEO Speaker Series.
WAM hits century mark
Wam, kapow, zowee! Women's group celebrates centenary with scholarship reception.
McGill 5 à 7: Tea for two - or twenty
Tea Queen Maggie Weller continues the decades-old tradition of brewing a hot cuppa in the Pulp and Paper Institute.
Tech sampler
A look at a few of the ways that the university wields its technological prowess. Read about digitizing rare collections, imaging cells in 6D, ultra-videoconferencing and COOL schooling.
Advice from a billionaire: Priceless
Balbir Gill
"Oracle of Omaha" Warren Buffett meets with McGill students, offering his advice on life, business and investments. The world's second-richest man then picked up the tab for lunch.
Let's get going: Jewish and Arab youth unite with Yalla
Erica Zelfand
McGill students bridge ideological chasm with award-winning journal.
Outlook on Africa
Patrick Lejtenyi
McGill students Andrea Charbonneau and Farah Williamson to set up Shelter Wakadogo to help children in Uganda.
Roots of resilience
Psychiatrist Laurence Kirmayer receives $3.2-million grant to start up a cross-cultural research program on indigenous mental health.
Election Monday to Super Bowl Sunday

This edition's roundup of McGill headliners features docs, jocks and post-traumatic shocks.


The discords of health care

Dr. David Colman's tongue-in-cheek op-ed decries the sad fate of the MSO should it get tangled in the complementarity web.


Clive Chang: Mixing business and (musical) pleasure


He hasn't written a best-selling novel or swum the English Channel, but don't put it past the indefatigable Clive Chang (honours student, musical director, administrator, student counselor).


The rules of engagement


Think that the McGill Debating Union only attracts nerds and know-it-alls? Tell that to Pierre Trudeau and Leonard Cohen.
Riding the bio-revolution wave

The Dean of Agricultural and Environmental Sciences discusses environmental research, interdisciplinarianism and, of course, the faculty's upcoming centennial bash.
Bleed for a cause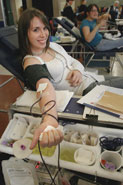 Ouch! U3 cultural studies student Emily Harris does her part for the recent Héma-Québec blood drive jointly organized by the Science Undergraduate Society and the Engineering Undergraduate Society. Every donation will be used to save up to four lives.
Owen Egan
Around campus
Open House attracts thousands, improv comedy splits sides, lumberjacks grind their axes, Darwin linked to Redpath Museum and, of course, design saves the world.