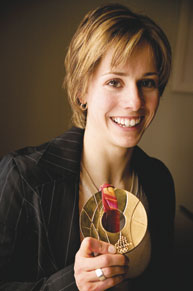 Claudio Calligaris
Heil triggers medal avalanche
Neale McDevitt
Management student Jennifer Heil wins Canada's first medal - a gold - of the Turin Olympics, spurring the Canadian team to its best ever showing.
When memory lane takes a wrong turn: Alleviating PTSD
Beverly Ackerman
McGill researchers discover way to reduce the effects of post traumatic stress syndrome.
Sex, lies and vocal apes
Neale McDevitt
This edition of McGill's media darlings includes Ian Shrier's take on sex and sport, Jack Jedwab's opinion of Wayne Gretzky's gambling woes, and Athena Vouloumanos' research on babies, parents and the soothing calls of rhesus monkeys.
P.O.V.: Something to celebrate
Shree Mulay, director of the McGill Centre for Research and Teaching on Women, offers her point of view of what International Women's Day means in Canada.
In focus: Roberta Duckworth: Smooth Operator
Jeff Roberts
The voice of McGill for the past 16 years, telephone operator Roberta Duckworth offers a rare inside glimpse into the thrills and chills of the life of a switchboard operator.
Juno nominee goes for baroque
McGill grad and employee Mika Putterman's CD gets the nod for a Juno nomination in the category "Classical Album of the Year: Large Ensemble."
Entre Nous with Peter Todd, Dean of Management - Big bucks for broad-minded business
Peter Todd talks about the direction of the newly renamed Desautels Faculty of Management, and his first job shovelling cement.
Back to school
Principal Heather Munroe-Blum walks for a day in the shoes of a student - what's changed since the last time she was an undergrad?
Learning from diversity: New office promotes equity
Hana Askren
Veronica Amberg and Vincia Herbert plan to create an office that will reflect the spirit of inclusiveness they'd like to see everywhere on campus.
Food for thought
Maeve Haldane
The McGill Institute for the Study of Canada chews over food practice and policy in their annual conference.
Arcadian adventures
Maeve Haldane
The former house of humorist Stephen Leacock is up for sale. The Reporter takes a tour with current owner Mary-Louise Engels and her ferocious sidekick Fang.
Internationally speaking: MBA in Tokyo
Shannon Devine
Tokyo-based freelancer meets with the management students and professors involved in a McGill degree many, many miles from our Montreal campus.
McGill sports' golden era
Neale McDevitt, Catherine Paquette, Jeff Roberts, Hana Askren
Hot off the heels of McGill's successful Olympics participation, we take a look at all of our winning-streak athletes. There's plenty of brain to go with the brawn.
Senate: To the last drop
Jeff Roberts
Tech transfer, liquor permits and library tenure.
Tel-Aide: Lend someone an ear
Dave Jaffer
Elizabeth Martin, McGill volunteer for Montreal's premier help line, speaks out on the need for more folks to lend an ear.
A new journalism
Deborah Rubin - WARM-SPARKS
Communications professor Carrie Rentschler researches the changes in how a kinder, gentler media covers victims of trauma.
Kudos
Warren Chippindale is recognized for his tireless fundraising work for the MNI; ten researchers land new Killam Research Fellowship news; and three professors receive Sloan Research Fellowships.
Around campus
Yet another cross-dressing Gilbert and Sullivan opera; the intricate folds of Dr. Lang; managing P[h]assion shows; lunch with...Jan Wong; lecture series on human rights.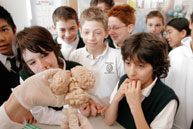 A McGill graduate student demonstrates a cow brain to kids eager to learn about grey matter, during last year's Brain Awareness Week. Graduate students from Montreal's four universities will visit more than 340 elementary and high schools this year from March 13 to 19, reaching approximately 10,000 students. BAW also includes public lectures. For more info see www.sfn-montreal.ca/baw.
Courtesy of the Montreal Neurological Institute