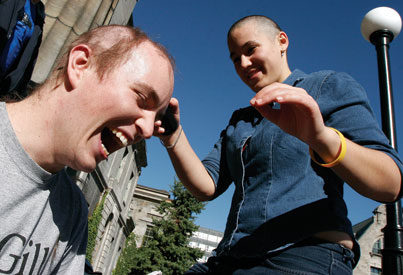 Wielding electric clippers and a gleeful smile, Adriana Redensek, U3 Biochemistry, administers a buzz cut to James Copely, U3 Biochemistry, on the steps of the Arts building. The domed duo were participating in an event to raise money for breast cancer.
Owen Egan
Bronwyn Chester
Stephen Lewis draws on his experience as UN special envoy in Africa and AIDS advocate when delivering this year's Massey Lectures.
Christine Zeindler
McGill comes out ahead in latest Research Infosource Inc. rankings, and the Times Higher Education Supplement names the university the highest in Canada.
The Bronfman Building officially inaugurates its new lobby, named after million-dollar benefactor Herschel Victor.
Neale McDevitt
Dynamic duo in secretariat make ceremony user-friendly
Honorary degrees for renowned MSO conductor Nagano and tireless volunteer Goldbloom.
Neale McDevitt
Workshop teaches staff non-violent crisis intervention for those on the front lines.
The Reporter picks eight new professors to profile.
Rita Kotzia
Jarrett Rudy looks at the history of one of Quebec's favourite pastimes, smoking, and how the attitudes of la belle province differed from the rest of Canada.
Patrick Lejtenyi
Students climb in a bus and hit the road to track down career leaders across the continent and ask their advice.
Neale McDevitt
Derek Drummond, interim director of athletics, outlines the steps McGill is taking to implement constructive team-building activities at McGill.
Vancouverite Wendy Brett goes from working in a plumbing company to helping first-year francophone students get their bearings; New publications hit the university stands.
Associate Provost, Academic Programs and Services, Morton Mendelson discusses research, teaching and his myriad of committee work.
From members of the McGill Equity Subcommittee on Queer People.
An action-packed Senate had something for everyone: Klibansky eulogy, music degrees, university-wide emails. The fur really flew when Senators learnt that the bookstore issued 3,000 rainchecks this fall.
Opera fights cancer, Twelfth Night goes condo, pumpkin carving and other creepy events for Halloween, first Town Hall of the year is coming up, the rich goulash that is Canadian food history.