Kahnawake diabetes project wins big
Christine Zeindler | "Remember, one soda a day for a year is equal to 18 pounds of fat." This fact, found in the Kahnawake Schools Diabetes Prevention Project Newsletter should make most of us think twice before reaching for a can of soda. The newsletter is just one of the tools that this research team, including McGill family medicine physician, Ann C. Macaulay, has used to reduce the high rate of type 2 diabetes in the Kahnawake population - an Aboriginal community located 15 kilometres south of Montreal. Their team approach, which involves partnership with the community, has been so successful that it is being implemented in other areas across Canada. In recognition of this work and her promotion of community-based participatory research, Macaulay has been recently nominated as a member of the Institute of Medicine, one of the National Academies of the United States. Only five individuals were named as foreign associate members this year; two from Canada.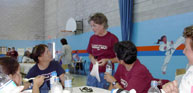 Photo courtesy Ann Macaulay
"I feel very honoured by this nomination," says Macaulay. "I wish to thank the Institute of Medicine for this recommendation and its acknowledgement of the importance of family medicine. I also ask everyone to recognize my colleagues and the Kahnawake community for their leadership, expertise and input into this research and other health initiatives - I share the Institute's distinction with them."
Macaulay, who is also a physician at the Sir Mortimer B. Davis Jewish General Hospital, has been working as a family medicine practitioner in Kahnawake for more than 30 years. She was the first external physician to be hired directly by the Mohawk community - a proactive step demonstrating the commitment of the Kahnawake population to address health issues. During her early years, Macaulay noticed the high rate of type 2 diabetes within her patients. With fellow community physician, Louis T. Montour, they initiated a project to study this trend and identify ways to slow it. With participation from the Elders and community leaders, and collaborators from the Université de Montréal and McGill, the Kahnawake Schools Diabetes Prevention Project (KSDPP) was formed. The long-term goal of this program is to decrease diabetes through healthy eating and physical activity among the children and youth. It seems to be working.
"This community-based solution towards reducing the high prevalence of diabetes is successful. We are witnessing trends that indicate children are learning healthy lifestyles," says Macaulay.
The KSDPP includes interventions aimed at the schools and within the community, and requires the involvement of children, parents, teachers and community members. Healthy eating information is available on the KSDPP website and promoted throughout the school, where there are no vending machines. Examples of physical activity include frequent community walks, bowling parties, snow sculpture contests and a two-day walk. The motto of the project is, "Healthy eating habits, daily physical activity and a positive attitude can prevent diabetes."
"The community is very proud of this initiative," says Macaulay. "It has had a tremendous impact. There is greater knowledge and awareness of diabetes and you now see people walking everywhere."
The Institute of Medicine acknowledges such initiatives and their mission is to improve the health of people throughout the world. Institute members nominate new associates using criteria that include distinguished professional achievement in a field related to medicine and health; and demonstrated and continued involvement with the issues of health care, prevention of disease, education, or research.
This year, the Institute announced 64 new members, raising its total active membership to 1,461. Three other McGill faculty have been previously honoured by a National Academies nomination, including, Dr. Albert Aguayo (Institute of Medicine, 1990), Dr. Brenda Milner (Academy of Sciences, 1976) and Dr. Stuart Savage (Academy of Engineering, 2000).
Dr. Martin Dawes, Chair of the Department of Family Medicine was pleased by the news of Macaulay's nomination. "This is outstanding, unbelievably good news," he says. "Dr. Macaulay has demonstrated that research that happens outside the hospital, within the community, is as important as research performed in hospitals. (This nomination) couldn't have gone to a better person."
The Dean of Medicine agrees. "This is fantastic news," says Dr. Abraham Fuks. "I congratulate Dr. Macaulay, on her nomination to the Institute of Medicine and her outstanding achievements in this field. Her groundbreaking research in a community setting is a model that many others have followed. Ann's work is a testimony to her skills and commitment and reflects the values of excellence, expertise and integrity we value in our faculty."