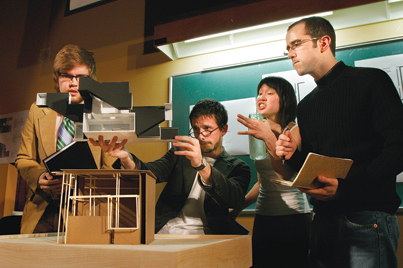 If you act it they will build. Students are putting on a performance of Private Jokes, Public Spaces, a play by Oren Safdie (son of architect Moshe Safdie) to raise money for BuildAid, a group committed to post-disaster reconstruction who hope to help rebuild Asia's Tsunami-stricken area this summer. The play runs March 17 at 7 pm, and March 18 at 2 pm and 7 pm in Rm 114, Macdonald-Harrington Building, 815 Sherbrooke St West. For more info call 398-6704. From left to right: Kurtis Elton (U3 arts & science), Michal Gorczyca (U3 architecture), Emily Gan (Concordia fine arts), Jonathan Karpfen (BA'04 philosophy & literature)
Owen Egan
Manfredi to take the reins
Maeve Haldane
Political science teacher Chris Manfredi is named the new Dean of Arts. Manfredi bravely vows to tackle all challenges head on - including the Darth Vader of all bugaboos; undergrad advising!
Tax time brings Chair for law faculty
Jeff Roberts
Talk about a tax return! The Faculty of Law creates the H. Heward Strikeman Chair in the Law of Taxation - already having attracted more than $1.6 million in donations.
McGill Headliners: From a tempest in a coffee cup to primetime McGill
Neale McDevitt
McGill experts weigh in on everything from the ongoing controversy about the prize-winning Tim Hortons' coffee cup to why users of London's Underground are humming Vivaldi. The big news? McGill merch hits primetime on two episodes of House.
P.O.V.: Olympic ideal
Laura Ruhnke
After the world's obsession with gold medal counts during the Torino Olympics, McGill BCom student Laura Ruhnke gives a refreshing firsthand account of what it was like to play for the Swiss national women's hockey team at the Games.
Profile - Julie Lafford: Taking you to school
Catherine Paquette
Alumni Education guru believes in Montreal, Madame Bovary, forensic detectives and the power of learning.
Grad students explore space and art in new speaker series
Marc Losier
Hell in cinema, Fluxus performance art and... necrophilia?!?! With topics like that, the new grad student speaker series promises to keep people awake if nothing else.
Entre Nous with Bruce Shore, Dean of Students
Shore provides students with safe harbour Bruce Shore gives us the skinny on the various services his office provides for McGill students. He's come a long way from his days stocking shelves at the Chrysler warehouse.
Techno-farming goes global
Philip Fine
Welcome to farming in the 21st century, where the cell phone and the internet are proving to be just as important as tractors and combines for farmers in developing countries.
Global warming expert not full of hot air
Balbir Gill
Think that nasty old industrial revolution was the event that started punching holes through the ozone layer? Guess again. Mini-Beatty lecturer William Ruddiman says people have been messing with global warming since we started farming the land and domesticating animals some 10,000 years ago.
Righting a wrong
Erica Zelfand
Wrongly convicted of a crime you didn't commit? You might want to contact Innocence McGill - a group of undergrad law students seeking to overturn wrongful convictions.
Shedding light on poverty
Natalie Fletcher, Maeve Haldane and Neale McDevitt
Researchers from across McGill's faculties take aim at a social ill that has long prowled in the shadows.
Gimme shelter
Erica Zelfland
A trio of enterprising McGill students help provide street children in India with much-needed refuge.
Streamlining breakthroughs
Philip Fine
To heck with unlocking keys to scientific mysteries, Robert Nadon tackles the truly daunting subject of what makes researchers do what they do.
Senate goes green
Jeff Roberts
Our intrepid reporter regales all with another installment of exclusive Senate coverage. Special guests, crime sprees and a presentation that brought the house down.
In memoriam
André Laplante and Fred Sagel
McGill Matters
WebCT Vista update
This just in
CKUT plays on; New president for SSMU
Around campus
Branding places; Wild expectations; Do the green thing; Pizza parlour prodigy performs; Gem of a fundraiser; Afghan ambassador to speak at McGill.
Philippe Richard, 8, of Cedar Park School in Pointe-Claire stands beside his picture, The Right to Peace as part of an art exhibition at the Law Faculty showing Montreal children's representations of human rights. The event was hosted by the Right to Education Project with support from the Rights and Democracy Delegation and the Human Rights Working Group. For more: emilia.ordolis@mcgill.ca
Owen Egan