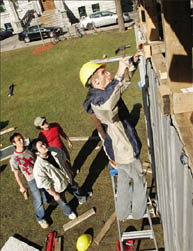 Owen Egan
Plugged into Mozart
Neale McDevitt
CIRMMT takes a road trip. McGill researchers go down to Beantown to hook up Boston Symphony Orchestra conductor Keith Lockhart to a space-age vest that monitors his physical responses as he performs in concert. Mozart in the new millennium.
Guardians of the past
Neale McDevitt
McGill inherits 60 years' worth of archives from local Japanese-Canadians. The collection tells the sad story of Canada's internment camps during World War II and how a whole community rose from the ashes to thrive once again.
McGill Headliners: Business, betrothals and the evils of beer
Henry Mintzberg and Karl Moore get down to business, John Lydon talks marriage proposals and Andrea Benedetti ruins our summer by bad-mouthing beer.
P.O.V.: Giving your all
Melissa Ann Gaul
Melissa Ann Gaul, a U4 honours student in English literature, volunteers her opinion on volunteerism.
Martin Raymond: One for all and all for one
Neale McDevitt
OK, so he's the winningest hockey coach in Redmen history and he was just named CIS Coach of the Year in March. Do you think you can get Martin Raymond to toot his own horn one little bit? Well, we tried.
Leaves from tea and books
Catherine Paquette
What do Tanzanian black tea and essays by filmmaker Denis Arcand have in common? Both were staples at the English and French Language Centre's annual Entrethé event.
Browsing the ARTstor
Maeve Haldane
Art historians and communications professors are clicking their heels and praising the ARTstor Digital Library Charter Collection. Why? We'll give you 400,000 reasons.
Entre Nous with Ann Dowsett Johnston, Vice-Principal of Development, Alumni and University Relations
With two months under her belt as VP, Ann Dowsett Johnston talks about everything from storytelling to Martlet House to the "transformative moment" that sold her on McGill.
Space, funding and future dominate Town Hall at Mac
Ian Howarth
Principal Heather Munroe-Blum treks out to the West Island for the Mac Town Hall. As usual, audience members pulled no punches, asking all the tough questions.
Three voices of genocide
Jeff Roberts
Three survivors of three different genocides — Rwanda, Cambodia and the Holocaust — explain what justice and human rights mean to those who have lived the horror.
Science and socializing
Keith Marchand
Think all science types are too immersed in their books to enjoy a little socializing? Guess again. The third annual Interdisciplinary Graduate Student Research Symposium drew friendly brainiacs from both sides of the border.
Out of Africa
Erica Zelfand
Religious Studies lecturer Norman Cornett has a knack for cooking up great guest lists for his classes. Check out the star-studded lineup he assembled to discuss a variety of issues relating to Africa.
Special feature: Hitting the right notes
Catherine Paquette, Hana Askren, Maeve Haldane and Neale McDevitt
Stories about the faculty and students of McGill's Schulich School of Music. Off-beat venues for classical cello; jazz-cat undergrads make a downtown club their classroom; conducting mentorship; healing broken musicians; Mini-Music pulls 'em in.
Inuit bring northern warmth to School of Social Work
Kristine Greenaway
A quartet of students were flown in from up north to complete their Certificate in Northern Social Work Practice before funding dries up. McGill's program is unique in the world in that it is the only one in which courses are offered in the students' first language, Inuttitut.
Flu beyond the coop
Beverly Akerman
It seems like just yesterday that the threat of an avian flu pandemic had people the world over running around like a chicken with its head... well, you know the rest. So have we dodged the bullet or are we still in the crosshairs? McGill experts weigh in.
Around campus
Worms, MRIs, a techie fair and more art than you could shake a paintbrush at.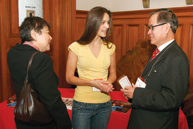 Scholarship recipient Ludvina Gómez Grosdemanche (middle) chats with donors Crystal and Arthur Lau at a reception to honour the Faculty of Science's benefactors and the scholarship winners. The event was held April 5 at the Redpath Museum.
Owen Egan