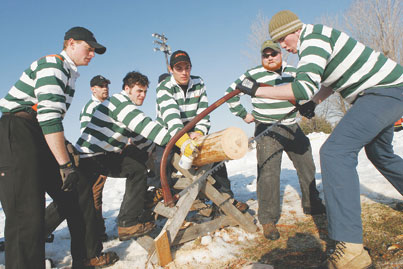 The Fleming Loggersports Team apply a little extra elbow grease in the Swede Saw event at the 46th annual McGill University Intercollegiate Woodsmen Competition on January 28 at Macdonald Campus. Despite their determined effort, the Fleming woodsmen were cut down to size by the McGill team that won eight of 14 events. See pages 8 to 9 for a story on the McGill team's training regime.
Owen Egan
Nature, nurture and neurophenotyping
Patrick McDonagh
Can't shake the doldrums? Is it genes or environment? The new Douglas Hospital research centre will delve into this very question thanks to $6 million in new funding.
Founder's Day speaker breaking down borders
Ian Howarth
Parker Mitchell, co-founder of Engineers Without Borders (EWB), to speak at Macdonald Campus's Founder's Day.
Tapping into the information treasure trove
Maeve Haldane
Stats whiz Celine Le Bourdais heads up Statistics Canada's latest information laboratory. McGill researchers will have full access to decades of survey data.
Plus In for the long haul: International conference looks at the boons and burdens of longitudinal studies.
Star-studded day at the Ritz
Jeff Roberts
Auditor General Sheila Fraser and Cirque du Soleil president Daniel Lamarre are among the prizewinners at the 26th annual McGill Management Achievement Awards.
A cut above the rest: McGill's Clansmen set to repeat as Canadian champs
Neale McDevitt
While you're still cocooning in your comforter at six in the morning, the Mac Campus lumberjacks and lumberjills are burying the hatchet (and the crosscut saw) in preparation for their last major competition.
Plus Life as a lumberjack rookie: How will hardcore woodsmen accept a greenhorn who shows up to camp in a limousine and wearing a purple parka that makes him look like Barney the Dinosaur? Read on...
Massive Change: The blueprint for a design revolution
Ian Howarth
Design guru Bruce Mau expounds upon the potential of sustainable design to improve the world in which we live.
Fed visits class
Erica Zelfand
Professor Norman Cornett organizes a "collective blind date" between his 110 Religious Studies students and five special guests, including Johanne Gelinas, Canada's Commissioner of the Environment and Sustainable Development.
On the Rhodes again, Zeppelin and "The Gambler"
Experiential consumerism
Obituary
Nikolai Nikolaiczuk, former professor of animal science, passes away at age 93. He worked at McGill from 1939 to 1971.
Images
McGill Investment Club goes crazy over simulated pork bellies; Open House exhibits model molecules, dune buggies, and chemical snow; Justice John Gomery talks of the commission for MISC.
Senate: Spouses, cheaters and empty rooms
A spirited session of Senate touched upon plagiarism, nepotism, the new boss in Ottawa and - hallelujah - the banning of cell phones and BlackBerries in the Chambers.
Around campus
Bolivian bike odyssey; back from the brink of Buchenwald; justice for Haiti; Nordic musical smorgasbord; battling the cyber-bully.