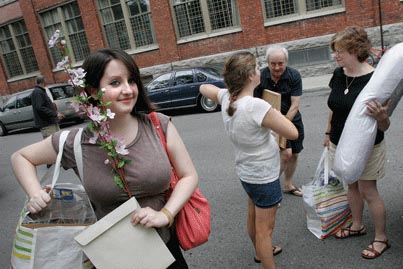 Neale McDevitt
New and returning staff and students have panoply of resources to turn to. From Welcome Week's Parents Tent that assuages anxious families to the Research Grants Office seminar to help faculty get funding.
Ian Howarth
Chandra Madramootoo goes from director of Brace Centre to heading up the Faculty of Agricultural and Environmental Sciences.
Rita Kotzia
Peter Todd returns to his alma mater, McGill, this time as Dean of the Faculty of Management.
The Principal welcomes the community and outlines the next big steps for the university.
Jeff Roberts
McGill law faculty helps organize legal workshop that addresses northern concerns: prisons, abuse and FM radio.
Staff association gears up to host a symposium for university managers on leadership. Management guru Mintzberg will speak.
Vanessa Farquharson – special from the National Post
U.S. journalist Barrett Seaman boozes with undergrads to research his book Binge: What Your College Student Won't Tell You.
Jeff Roberts
Philosopher and professor emeritus Raymond Klibansky dies at 99, leaves rich intellectual legacy and extraordinary stories.
New look for the Reporter.
Patrick Allaire: man of neurons, man of Iron.
Erotic? Neurotic? The Roddick Gates turn 80.
Interim Provost and CIO Tony Masi talks of charting the academic future of McGill University.
Grad students plot Thomson House festivities; Love Machine rumbles into town; fighting breast cancer all year 'round; Summer sloth? Fall back into shape.