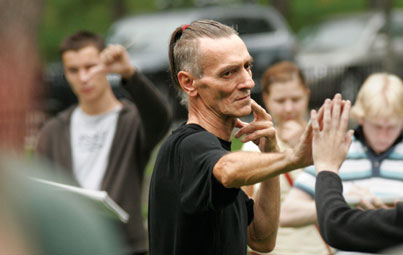 Cover boy Murray McKay does his Paris runway model act for a freehand drawing class for architecture students. Part of the School of Architecture's curriculum since it opened in 1896, 'life drawing' is designed to develop in students a love of drawing and an appreciation for its power as a mechanism for understanding the world.
Owen Egan
Neale McDevitt
Pilates enthusiasts, martial artists and barbell devotees have a vastly improved space in which to practice at McGill's Fitness Centre. Plus, just how did an architect become interim athletics director?
Neale McDevitt
New Orleans' Tulane University students to study at McGill until their school reopens.
Jeff Roberts
Philanthropist and Faculty of Law alumnus David O'Brien creates major fellowship awards for new McGill Centre for Human Rights and Legal Pluralism.
James Martin
Novelist William Weintraub takes on McGill and Montreal in the '40s with a bit of zip, bump 'n' grind.
Bronwyn Chester
Classes Without Quizzes needn't intimidate those returning to school for the first time in decades for Homecoming. As well, the fun and educational lectures are open to all the McGill community.
Arthur Kaptainis
McGill's Centre for Interdisciplinary Research in Music Media and Technology will scale new heights of digital expertise and plumb new depths of sound understanding.
Maeve Haldane
The Faculty of Arts has launched an interdisciplinary program for undergrads. The pleasure will clearly be in the voyage, not the destination.
Maeve Haldane
The first session of the academic year saw vigorous discussion over the tenure process of librarians, and shoo-in approval for a minor in sexual diversity and a new centre for human rights and legal pluralism.
Neale McDevitt
The Fiske Guide to Colleges gives McGill an enthusiastic thumbs-up.
Letters
In focus
Student and staffer Joseph Kimani swims against the tide at world championships; how to get worms to turn garbage into fertilizing gold