Baiting HIV
Can a cure be far behind?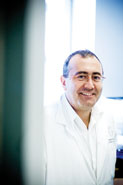 Claudio Calligaris
Medicine is full of surprising turns. Often drugs that have been on the market for years turn out to be effective for an entirely different disease. Take valproic acid. Physicians prescribe it to epileptics to stop seizures. But this old drug and some new thinking may also transform HIV into a curable infection.
McGill hematologist Jean-Pierre Routy, Department of Medicine, is leading a Montreal-based clinical trial of valproic acid, an epileptic drug, as a way to bring HIV out of hiding and eradicate it.
Although anti-retroviral drugs can drop blood HIV levels to nearly undetectable levels, the virus can stash itself in certain cells indefinitely and release a surge of viral particles if therapy is discontinued.
Routy's trial will build upon a proof-of-concept study that was published in the Lancet in August by a team at the University of North Carolina at Chapel Hill. Four patients with well-controlled HIV infections were given valproic acid in addition to their standard cocktail of anti-HIV drugs.
This "bait-and-tackle" approach uses valproic acid to lure the virus out of the cells. Once outside, a conventional treatment — highly active antiretroviral therapy (HAART) — keeps the virus from replicating.
In three of the four volunteers, the pool of residual HIV was reduced by 75 percent after four months of treatment.
Valproic acid, which has been on the market for nearly 40 years, was initially thought to be a bad drug for individuals infected with HIV because it stimulates the virus to leave the cells. "But in the presence of [HAART] you can dream that you can pull the virus out and block its re-entry," says Routy. "For the scientist, what was once impossible may now be workable."
Until this study, even the best therapy had no effect on the reservoir of HIV particles that lay dormant in patients' CD4 cells, says Routy. "It is a very important result. It is as though this reservoir was a wall, now there is a crack in the wall."
"If you stop antiretroviral therapy, within three weeks the virus rebounds and springs back to initial levels. You remain a prisoner. With this drug we can start to work towards removing HIV completely."
If the treatment is successful in a larger group, it might bring researchers closer to a cure. Few scientists have dared utter the word "cure" since their enthusiasm for HAART (the powerful anti-HIV cocktail) led researchers to speculate in 1996 that HIV would be eradicated within two or three years. Researchers abandoned hope when they learned that the virus can enter a latent stage and hide out in cells.
Routy and his colleagues will enrol 50 people in a one-year trial and evaluate the effects of valproic acid on the HIV reservoir. The trial will be conducted at the Royal Victoria Hospital of the McGill University Hospital Centre, the Centre hospitalier de l'université de Montréal (CHUM) and a private HIV clinic. The study is supported by the Canadian HIV Trials Network and the Canadian Network for Vaccines and Immunotherapeutics (CANVAC).
Routy is also involved in testing a therapeutic HIV vaccine — that is one to treat those already infected by the HIV virus. The study, still in its recruiting phase, will enroll 60 patients at three centres in Canada, and will evaluate the ability of two different vaccines to control the virus after drug treatment is stopped.