A personal reflection on the Oka Crisis
Lynn Fletcher
Special from First Peoples' House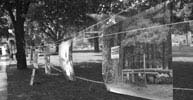 Linda Hammond/INDYFOTO.COM
As I was walking along, the sudden sounds of gunfire reverberated through the trees. I turned to see silhouettes peering out. Pictures of Mohawk warriors, women and children emerged, protecting their ancestral homes. Yet I was not walking through the ancestral pines of Kahnesatake, but along the main roadway through the centre of the McGill Campus.
Local radio station CKUT, the Indigenous Peoples' Solidarity Movement, the Native Friendship Centre of Montreal and the First Peoples' House of McGill University collaborated in a reconstruction of the 15th anniversary of the Oka Crisis on July 11. The sound of gunfire (taped during the actual conflict) was played over the loudspeaker. The silhouettes represented the ancestors of the Mohawks whose spirits still protect their homelands. The photos were part of an art installation that displayed some of the scenes that had taken place 15 years earlier during what is known as the Oka Crisis.
Now this was a time of reflection, prayer and healing. From the first spark from the lighting of the sacred fire to the last beat of the drum, this event recognized the exploits and tribulations that the Mohawks faced 15 years ago. It reflected the rich Iroquois history embedded in the lands where McGill University stands today. It brought together the past, present and future.
The First Peoples' House is part of the Student Services of McGill. We are situated on Peel St. in a beautiful old brownstone building. "Home away from home" is the ideal that the First Peoples' House has created. We offer our indigenous students the best support possible to help them to thrive in the McGill community and to achieve their academic goals. We offer them a place where they feel welcomed, comfortable and safe. While open to all McGill students, the social events are organized to specifically address indigenous students' cultures and requests. These events create a sense of bonding and friendship, and are one of the ways a community is being created.
We are proud to announce and warmly welcome the appointment of Waneek Horn-Miller as the new FPH Coordinator. May she enjoy great success here at McGill University.
The First People's House is located at 3505 Peel St., 398-3217, and are open Mon. to Fri., 9:00 am to 5:00 pm. For more information, see: www.mcgill.ca/fph.