Around campus
You oughta be in pictures...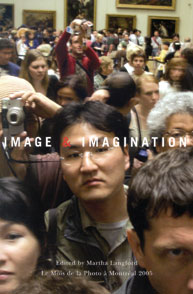 Courtesy of Martha Langford
To mark Montreal's Mois de la Photo, McGill-Queen's University Press is holding a contest in conjunction with the release of their new book, Image & Imagination, by Martha Langford, artistic director of this year's biannual International photographic event.
Image & Imagination is about the role of the imagination in photography. A blow-up of the cover image, "Hallelujah" (by Jonathan Plante, 2004), will be mounted in the McGill University Bookstore window until the end of September. Win a free copy of this gorgeous book by answering: Which painting, considered to be the most famous in the world, are the spectators looking at? If there are multiple correct answers, a draw will be held.
Entry forms are available at the bookstore, 3420 McTavish St.
Mois de la Photo continues until October 10. For more info, see: www.moisdelaphoto.com

Full of hot air: Recorder Festival hits McGill
You walk into the hall and are greeted by a gaggle of beginner recorder players, ages 5 to 8. Clutching their respective instruments, each child breathlessly awaits your command to start playing. You brace yourself. None will hit the same note. At their best, they will sound like a roomful of steam engines. At their worst, a train wreck. On this day, Beethoven may very well roll over.
A cacophony of terror cooked up by Stephen King? The recurring nightmare that haunts Kent Nagano? No, just the Beginners Youth Workshop, one of the many recorder-based events on tap for the 2005 Recorder Festival.
Festival organizer Matthias Maute began the festival in 2002 to fill a huge void in the North American recorder scene. "There are dozens of recorder festivals throughout Europe," he says, "but none on this continent. I wanted to stimulate an artistic exchange between musicians from around the world."
The lineup is an eclectic mix of traditional concerts, hands-on workshops and exhibitions of musical instruments. Of particular interest is the concert Bernard Böhm will give on September 16, in which he will play wind instruments from the Stone Age to the Baroque.
The festival will end with the finals of the inaugural Montreal International Recorder Competition Gala Concert. The competition has attracted some 30 players from around the world. Unlike some competitions in which musicians are required to play the same piece, this one will reward creativity. "The judges will focus on artistic presence," says Mute. "We encourage creativity and improvisation. It should be quite exciting."
The 2005 Recorder Festival runs September15-18. For a subscription form to enroll in workshops or other activities, go to . For more information call 523-3611.

Celebrating the Johnston years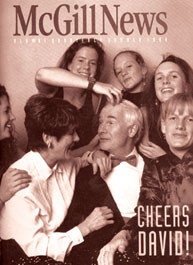 Courtesy of McGill News
Time for a little McGill Jeopardy. He was both one of McGill's youngest and one of its longest-serving principals, as renowned for his academic achievements and administrative accomplishments as he was for his affable, approachable personality. If you said "Who was David Johnston?" Alex Trebek would let you choose another category.
On September 20, the James McGill Society will host a lecture celebrating Johnston's triumphant tenure as McGill's 14th principal. Just 38 years old when he was named principal, Johnston held office from 1979 to 1994, the fourth longest term in McGill's history. During this time, Johnston made a name for himself as a tireless fund-raiser, highlighted by the 21st Century Campaign that raised more than $200 million in the 1990s — at the time the most successful such campaign in the history of Canadian universities.
According to Peter McNally, director of the History of McGill Project, Johnston's legacy extends beyond academics and administration. "He is an immensely charming man," says McNally. "Although he didn't have much experience in administration when he took over, he had enormous vitality and, of course, a deep devotion to McGill."
Some of McNally's fondest personal memories of the period are of the faculty get-togethers hosted at the Johnston household. "David and his wife Sharon had five young daughters at the time and trays of hors d'oeuvres would appear in front of you as if by magic, held up by these tiny little girls."
Peter McNally presents: "David Lloyd Johnston: Fourteenth Principal and Vice-Chancellor, 1979-1994," Tuesday, September 20 in the Faculty Club Ballroom. Reception at 5:00 pm, lecture at 5:30. All are welcome.

Touching doc kicks off Oncology film series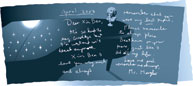 TZIGANE
He was dying. He was depressed. He was about to meet a little girl that would fill his final days with hope and happiness.
"He" was Daniel Mergler (BSc'46), a 77-year-old music teacher diagnosed with terminal colon cancer. In the summer of 2002, Mergler sat on a park bench brooding over his situation. A man and his young daughter came along. As the little girl ran off to the playground, the man sat down beside Mergler.
Peter Yu introduced himself and the two men struck up a conversation. Yu had recently come to Montreal to study at McGill. Mergler perked up when Yu told him that he and his wife had recently bought their daughter Xin Ben, a piano even though they could barely afford one. When he heard that they still hadn't found a teacher for her, Mergler offered to take her on.
An absolute novice, Xin Ben so impressed Mergler during their first lesson together that it ran an extra hour. The two grew very close. They sang together. He told her stories about Beethoven and Mozart. She gave him music and promise for the future.
Then one day, Mergler called Yu to say he was too weak to continue the lessons. He was in the hospital. He asked that Xin Ben not come to see him, that her final memories of him should be happy ones at the piano. When Yu went to visit, Mergler gave him a statuette of Beethoven and a letter, both for Xin Ben.
The documentary Mr. Mergler's Gift will be shown on September 13 at Moyse Hall. Directed by Oscar-winner Beverly Shaffer (BA '67), the film is the first in the series titled: Films that Transform: In Dialogue with Others on the Journey.
Organized as part of the Department of Oncology's Programs in one Whole Person Care, the series will screen film a month and be hosted by a different moderator. The goal of the series is to provide a forum for the general public to meet with the McGill medical community and, together, explore the meaning of healing and wellness in daily life.
Mr. Mergler's Gift and Appointment with a Wise Old Dog will be shown on September 13, 7:00 pm, Moyse Hall. $10 per film, $5 for students and seniors. For more info call 398-2298.