The remains of war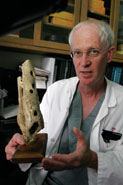 Owen Egan
Long forgotten, wrapped in newspaper and left to gather dust in a dark cupboard in the Duff Medical Building, McGill's collection of bones from American Civil War soldiers was almost unknown, and seemingly destined to be forgotten.
Relics of a bygone era when pathology and anatomy collections were a vital part of medical teaching and research, the bones will soon be rescued from obscurity thanks to the efforts of pathologist Richard Fraser and several others who have worked over the last few years to mount a multi-theme display "War, Bones and Books" in the Osler Library.
"I felt these soldiers deserved to be remembered — my idea was for it to be a tribute to the soldiers and to show the uselessness of war," said Fraser, who put together the display with help from engineering student Monica Farcas and Joan O'Malley, a staff member in the Department of Pathology.
As a testament to the suffering endured by soldiers wounded or killed in battle, Fraser's display is grimly effective. The bones are the remnants of a donation of approximately one thousand such items to McGill by the U.S. Army Medical Museum, which had collected them from the battlefields to learn more about battlefield injuries; "People would tour the battlefields and take body parts from amputations and put them in barrels of rum for transport to the museum in Washington, DC."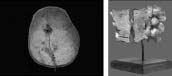 Courtesy of Osler Library
Today only 120 of the bones are still at McGill. They do not make for easy viewing. Mounted on one wooden base is a short section of a man's vertebrae, a bullet lodged between the bones, an injury the poor man carried around for 18 years before he died. Another is an arm amputated after the Battle of Bull Run, the humerus shattered like glass by a gunshot wound.
Such medical collections were valuable teaching tools throughout the late-19th and early-20th centuries and doctors would often keep interesting specimens from their patients for their records. At McGill, this eventually became the Medical Museum, which later split into the Anatomy and Pathology collections. The first collection was curated by Maude Abbott, then a lecturer in pathology, who had been encouraged to pursue the project by Sir William Osler. In 1906, Abbott was one of the founders of the International Association of Medical Museums. This proved to be excellent timing for Abbott and McGill, for one year later the Strathcona Medical Building would be almost completely destroyed by fire, including a substantial portion of the Medical Museum collection. Abbott put out a call for help to her fellow curators in North America and Europe. One of the biggest donations to come in was the Army Medical Museum collection of bones.
The library display will have information on Abbott and the museum, and be accompanied by the poetry of Walt Whitman, who wrote some of his most famous poems after volunteering in military hospitals in Washington. Whitman, in turn, was a patient of Sir William Osler.
Completing another circle, the International Association of Medical Museums eventually became the International Academy of Pathology, which will hold its centenary meeting in Montreal next year.
"I think that people will leave this exhibit and have some appreciation of the value of specimens like this. These specimens were wrapped up in newspaper and stuffed into a cupboard and could have been thrown out, and that's an issue being faced by museums all over the world. I would hope that it would be seen as a valuable part of McGill's heritage," Fraser said.
"War, Bones and Books" will be on display at the entrance to the Osler Library of the History of Medicine in the McIntyre Building from September 19.