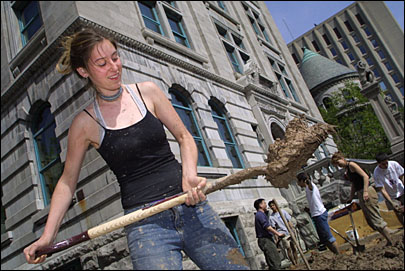 No, she's not cleaning out her apartment, nor is she planting tomatoes. Instead, architecture student Sophia Vincent and her classmates are digging into their course work for "Community Rebuilding and Appropriate Technologies: Earth as a Sustainable Technology." The six-day course is taught by professor Jean D'Aragon and examines traditional and environmentally friendly building technologies.
Photo: Owen Egan
New home for genomes
Sylvain-Jacques Desjardins
Seven labs scattered around McGill will unite in one building. The cutting-edge study of genomes and proteins requires investigators from disparate fields: biologists, geneticists, mathematicians and computer scientists. Finally they'll be able to assemble under one roof to ease the ebb and flow of multidisciplinary research.
Diabetes discovery
Sylvain-Jacques Desjardins
Could a new treatment for diabetes be available soon? Drs. Rosenberg (McGill) and Vinik (East Virginia Medical School) are behind a breakthrough discovery in which the pancreas is stimulated to grow new insulin-producing cells. Pharmaceutical companies are taking this seriously. Very seriously.
Keeping an eye on the earth
Meera Karunananthan
Ten years ago world leaders made a commitment to environmental sustainability at the Rio Earth Summit. Soon they'll meet again in Johannesburg to work out an implementation strategy. But how effective will they be? The McGill School of the Environment and the NGO Alternatives held a conference to discuss Canada's involvement.
Mineral namesake
James Martin
Imagine having a rock named after you. How cool is that? Geologist Robert Martin is the latest McGill staffer to have the honour of his name historically embedded in the Earth as well as mineralogical sciences.
A man of letters
Maeve Haldane
Filmmaker and historian William Weintraub palled around for decades with Montreal literary greats Mavis Gallant, Mordecai Richler and Brian Moore. His correspondence with them reveals the energy of youth and the trials of making literature your livelihood. He's donated these letters to McGill, along with books, photos and his own considerable body of supporting work.
Takin' it to the streets
Meera Karunananthan
Jean-François Boivin teaches the sort of epidemiology that falls between the cracks: the prevalence of HIV, health concerns and practices among street youth. The research he does with Dr. Elise Roy has won them international recognition and helped set up a clinic for Montreal street youth.
Northern nutrition
Maeve Haldane
Fermented marine mammal blubber may not be to Laurie Chan's liking, but as a toxicologists who studies the diet of indigenous peoples in the North of Canada, he has to know about it (he prefers the plentiful fish). How has the pollution in the environment affected the food supply of northern dwellers? What are the risks and benefits of adhering to a traditional food system?
Community collaboration
Maeve Haldane
Diabetes strikes up to half of the 50-year-olds in some native communities. To fight this disease, the Mohawk town of Kahnawake, along with researchers from McGill, has started a healthy living initiative aimed at kids: Kahnawake Schools Diabetes Prevention Project. KSDPP's promotion of good eating and physical activity has affected all of the community for the better.
The path to learning in Asia
Maeve Haldane
What better way to spend your summer than travelling to Asia? Fifty education interns will go to China and Taiwan to teach English. Professor and director of the Faculty of Education's International Office Paul Clark talks about setting up the program and the challenges the interns will meet.
Go, team teachers, go!
Mark Reynolds
The Allan Blizzard prize for innovative teaching has gone to the McGill School of Environment for a first-year course on the entire history of the planet. "The Evolving Earth" was taught by a wide variety of professors so that the students could benefit from a range of expertise.
Bad news for dandelions
Bronwyn Chester
Some love them in salads, others find them pretty, but many people want to obliterate them from their gardens. Dandelions, a bonny yellow scourge, can now be effectively dealt with in an environmentally friendly manner using fungus, not nasty chemicals. Professor Alan Watson says how.
G8 representative speaks
Meera Karunananthan
Canada's representative to the G8 Summit talks in Kananaskis, Ambassador Robert Fowler, drops by an international development lecture series to speak of globalization and Africa.
Spring has sprung
Mark Reynolds
Crazy weather, mood swings and budding flowers are some of the harbingers of spring. These cue a variety of spring-time hustling and bustling on campus, from finding jobs, trapping skunks, recruiting newcomers and getting the barbeque ready for a good slab of meat.
Also in this issue
New librarian at Mac gears up for renovations and innovations while enjoying the scenery; A fond farewell to Queen Mum by a member of the Black Watch.
Making fossils at the Redpath Museum; Tour of spring wildflowers at the Morgan Arboretum and bird banding with Drs Bird and Titman; Aches and pains as you jump into warm-weather sports? Head to the Sports Clinic; Queen Noor of Jordan will talk to McGill of peace.