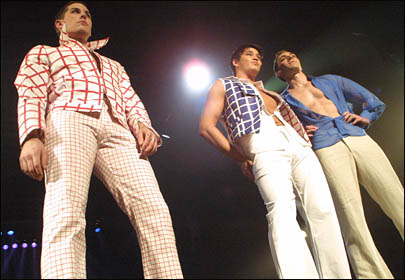 Fifty student models from various faculties strutted their stuff for the 11th annual Phassion show put on by the Management Undergraduates' Society, held March 14 at Metropolis. Carol Robinson, sponsorship coordinator of Phassion's dedicated organizing committee, says they've raised over $10,000 for local AIDS organization Farha Foundation and they're still counting the beans coming in. They packed the joint, with just over 900 people paying $20-40 a ticket.
Photo: Owen Egan
Environmental progress
James Martin

While some student activists have voiced frustration with the slow pace of the process associated with establishing McGill's new environmental policy, the committee in charge of shepherding the policy insists that progress is being made.
End of science? Nah
Eleanor Brown

Sir John Maddox, former editor-in-chief of Nature, has plenty of ideas about the future of science. During his recent Beatty leacture, he shared his notions with a large McGill audience.
Parasite versus parasite
Maeve Haldane

It takes a thief to catch a thief, the old adage goes. That seems to hold true for parasites as well, as McGill scientist Manfred Rau plots to use one type of parasite to thwart another, more dangerous parasite.
Rough ride for ice storm babies
Stephanie O'Hanley

Psychiatry professor Suzanne King used Montreal's infamous ice storm as a real-life testing ground to examine the effects of maternal stress during pregnancy on a child's subsequent development. The early results are disquieting.
The art of conversation
Maeve Haldane

He invented the term anesthesia, befriended Melville and Hawthorne and was the driving force behind The Atlantic Monthy. But most of all, Oliver Wendell Holmes loved to talk. He helped infect a generation of Americans with a similar passion for meaningful conversation. English professor Peter Gibian's new book explores Holmes's legacy.
Rethinking the war on crime
Daniel McCabe

Economist Tom Naylor thinks the good guys can be just as scary as the bad guys sometimes. Police forces are obtaining questionable new powers in the battle against organized crime and they aren't wielding these powers with much concern for civil rights. As for organized crime, it isn't nearly as organized as we're led to believe.
Concussions: Cause for concern
Anna Bratulic

Concussion experts are concluding that the injuries are far more dangerous than people once believed. A leading expert recently visited McGill to share some of the latest facts.
The campus campaign trail
Mark Reynolds

Voter apathy, a hostile press, heart-breaking losses, crushing workloads. Student politicians face some daunting obstacles as they try to make a difference in how the University is run.
Also in this issue
Willy Blomme balances school with her work as a high-profile national organizer for the NDP; The many faces of Betty Crocker.
Watching female MPs get the job done; Queer McGill throws itself a party; CKUT gets national exposure; A new web site offers a unique take on Montreal history through its tales of flowers and herbs from yesteryear.