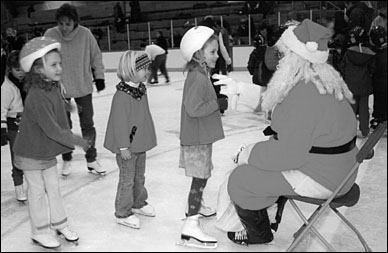 Eyal Baruch caught the Santa bug 17 years ago, first as a daycare coordinator, then for the Department of Athletics Christmas Total Workout, then "any Santa gig around I took it." A few "genuine hugs" and ear-whispered wishes later, Baruch was hooked. "In the beginning I was scaring the kids, then I just saw them glow." Four suits later, he's the jolly red fixture at the annual Principal's Skating Party, which got its start in 1989. Last December 16 saw 593 red-cheeked happy bladers and tots, snarfing down hot dogs and cocoa, served by students dressed as elves. Christmas carols and chocolate stars rounded out the afternoon's good cheer.
Photo: Claudio Calligaris
New units unite scholars
Daniel McCabe
It's a complicated world and it's getting more complicated by the minute. Scholars can't always solve mysteries using a single type of expertise. That's the thinking behind two new units -- the McGill Institute for Advanced Materials and the Centre for Language, Mind and Brain.
Pay equity results are in
Daniel McCabe
The work of the Pay Equity Committee is coming to an end and decisions have been made about whose pay cheques will be getting fatter. Everyone agrees the government-imposed exercise was flawed. The University won't be limiting itself to the pay equity results in making salary structures more fair.
Tales from near and far
Daniel McCabe
Islamic studies professor Eric Ormsby examines the pitfalls of translation, the power of classical Arabic literature and his own unique family history in his own book. He also has some thoughts on how the West sees Islam.
McGill newsmakers 2001
Daniel McCabe
Stem cells from skin. The effects of beautiful music on the brain. A centuries old cosmic mystery. The benefits of breastfeeding. Marijuana as medicine. These were some of the McGill stories that attracted the attention of the news media in 2001.
Science with scruples
James Martin
Biologist Catherine Potvin says it isn't enough to publish your research results successfully -- you have to treat the people in the countries in which you work ethically. Keep your promises, respect their way of life and learn how to spell their names properly.
Paving the way for innovation
Tod Hoffman
The folks at Corning Incorporated always seem to be riding the crest of the next great idea -- from coloured glass for railroad signals in the 1870s to photonics and optical fiber today. Management professor Margaret Graham studied the company's history to uncover how they foster innovation.
Hockey and the hijab
Maeve Haldane
They argue with one another over Islam. They take to the ice wearing hijabs. They want a place to pray. They don't want to be misunderstood. Meet some of McGill's Muslim students.
Also in this issue

Kaleidoscope
A hero who isn't so sure he's a hero; Leonard Cohen's boyhood home stays in the McGill family; Macdonald Campus's cows act up

On campus
The Faculty of Education's media services has what you need to make your movie; Claude Ryan teaches a course; A new daycare facility gets its start

Owen Egan