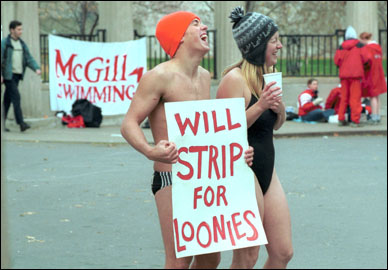 Members of the McGill swim team parted with their pants and shirked their shirts yesterday, in a bid to raise money to support a trip early next year to take part in the Canadian Interuniversity Sport swimming championships to be held in British Columbia. The approach seemed to be working, so much so, that McGill fundraisers up in Martlet House are reportedly viewing The Full Monty as a research tool in preparation for the University's next capital campaign.
Photo: Owen Egan
Class acts take the prize
Daniel McCabe
According to those who took their courses, the four new winners of the Principal's Prize for Teaching Excellence not only dazzled in the classroom, they changed some students' lives.
The truth be told
Sylvain-Jacques Desjardins
According to the McGill University Health Centre, honesty is the best policy. The MUHC has pledged to tell its patients the whole story whenever an error is made in the medical treatment they receive.
Protecting the public good
Mark Reynolds
Looking to corporate values for inspiration is no way to run a health care system, says author and philosopher John Ralston Saul.
A beastly look at ourselves
Anna Bratulic
The new British TV series Walking With Beasts bills itself as the most expensive documentary ever made and millions of viewers have been dazzled by its colourful approach to prehistorical times. McGill's Michael Bisson served as a key advisor to the show's producers.
Did the Vatican do enough?
James Martin
A member of an international commission that is examining how the Vatican dealt with the Holocaust says they aren't likely to find clear cut guilt or innocence. The truth is more complicated than that.
Feeding the educated masses
Maeve Haldane
Meet the people behind the food, the folks who come up with the meals that fuel McGill's professors and students. Undergraduates can't get enough Pork Schnitzels. Don't even try ordering them in the Faculty Club.
Also in this issue

Kaleidoscope
Marg McGregor wants to show you a good time - at a university sports event; It's November, fire up the barbecue!

On campus
The art gallery up the hill; McGill's new science award for high school students; Taking the trees to the classroom; Leo Yaffe continues to keep his eye on students

McGill's teaching award winners have their say on the issues facing McGill classrooms

The Faculty of Management rethinks how it does its teaching

The Centre for University Teaching and Learning will help you rethink how you do yours.