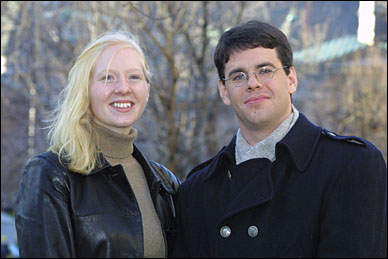 McGill's newest Rhodes Scholars, Kimberley Brownlee and François Tanguay-Renaud. See story.
Photo: Owen Egan
The Rhodes to glory
Daniel McCabe
Kimberley Brownlee overcame a disabling condition to win one. François Tanguay-Renaud wasn't sure he wanted one. Meet McGill's newest Rhodes Scholars.
Big boost for Trottier Building
Sylvain-Jacques Desjardins
Thanks to $7 million in funding from the Quebec government, McGill has enough money in hand to build a state of the art building for teaching the hi-tech professionals of tomorrow.
Extreme weather
Maeve Haldane
Floods, hurricanes, ice storms, droughts -- weather can cause millions of dollars' of damage and wreak havoc. It would help if we had a better sense of when extreme weather would occur. Some new initiatives involving McGill's weather specialists aims to do just that.
Stamp of honour for institute
Daniel McCabe
The McGill-affiliated Polish Institute is a unique resource for scholars and for Montreal's Polish community. The Polish government has taken notice.
A rocking read
Sylvain-Jacques Desjardins
McGill's Will Straw helped put together a new book that takes a scholarly but spry look at pop and rock music. He discusses how portable radios transformed music, who buys Britney Spears CDs and why dance music will never die.
Vision across disciplines
Mark Reynolds
Emil Skamene's multidisciplinary approach to research uses discoveries from genetics to uncover why people react differently to infectious diseases. Now, as the director of the McGill University Health Centre Research Institute, Skamene is encouraging his colleagues to break down the borders between disciplines too.
Senate: A 'major' dispute
Daniel McCabe
What ought to constitute a major at McGill? Should it depend on the discipline or should there be standards applied across the University? In taking on these questions, science and arts senators found themselves on opposite sides.
Gift giving in times of war
Meera Karunanathan
If you're going to fight a war, don't confuse the issue by offering the people you are bombing some food aid. A Médecins Sans Frontières official recently discussed the mixed signals Americans are sending Afghans and how it's complicating the work of the NGOs that were already trying to help civilians in Afghanistan.
For love, not money
Maeve Haldane
The members of the McGill Symphony Orchestra spend long hours mastering their instruments and face uncertain career opportunities. Why put up with the hassle? It's all about the music.
Also in this issue

Kaleidoscope
Using doctors' clinical mannerisms, Andrew Steinmetz weaves poetry; The marvels of our metros

On campus
The principal unveils new initiatives for managers; The McCord Museum's upcoming events; Need a Christmas tree? Here's where to go