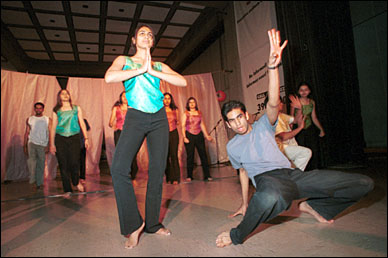 Students from the Indo-Pak Students Association strutted their stuff last Thursday at a variety show that was part of the Student Society of McGill University's week-long Culturefest. Also taking part were an Iranian dance troupe and the a cappella group Tonal Ecstasy.
Photo: Owen Egan
New institute powers up
James Martin
The lights could go out and never come back on in a few years as Hydro-QuZbec finds itself running out of power engineers. A new institute, in which McGill plays a major role, aims to make sure the lights stay on.
McGill researchers tops
Maeve Haldane
As things improve on the research funding front, McGill's professors are reaping the benefits more than any of their contemporaries. The University's researchers lead the country in the funding they're able to secure for their own projects.
Men: Stoic, silent and sick
Sylvain-Jacques Desjardins
Men suffer in silence while women get their aches and pains checked out. Social work researcher Germain Dulac urges males, the health care workers who treat them and the parents who raised them, to ponder why so many men become ill when it doesn't have to happen.
Why booze leads to woe
Maeve Haldane
Psychologist Robert Pihl explains how alcohol can lead people into dangerous territory. He says all drinkers are not alike and they shouldn't be treated that way.
Who supervises the supervisors?
Philip Fine
A new questionnaire will probe how well McGill's graduate students are being supervised. It's a topic that graduate students everywhere are taking seriously these days.
Popular culture's war on men
Tod Hoffman
A new book asks why so many TV shows, films and comic strips portray men as dim goofballs or sadistic villains. And why do men put up with it?
Upsetting the biodiversity apple cart
Daniel McCabe
Biologist Graham Bell has a notion about biodiversity that runs counter to the thinking of most of his colleagues. His next mission is to figure out at what point his new theory fails.
From advisors' lips to students' ears
Patrick McDonagh
University life isn't easy to figure out especially if you're new to the world. A team of advisors do their best to steer students in the right direction.
Also in this issue

Kaleidoscope
The man who helps McGill make sense in French; Canada is running out of hearts

On campus
The Redpath Hall's remarkable organ turns 20; The Welcome Centre would like to show you around the joint; Place your bids for a good cause; Homophobic or home sweet home?

Fall convocation honourees
Governor General Adrienne Clarkson and Supreme Court justice Ian Binnie are among those celebrated.

Owen Egan