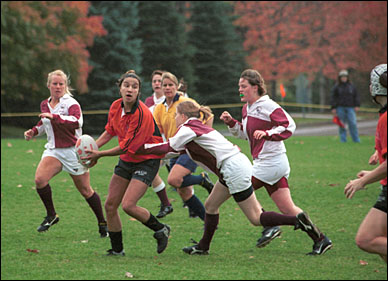 It seemingly takes a small army of University of Ottawa rugby players to take on this McGill Martlet. That might explain how McGill crushed Ottawa 104-0 last Saturday. Next up, Concordia for the Quebec league championship next Sunday.
Photo: Owen Egan
Superb students saluted
Daniel McCabe
Some of Quebec's best and most imaginative university students were recently fêted at the Forces AVENIR award ceremonies. McGill students picked up three prizes.
A different kind of dentistry
Daniel McCabe
Recognized as one of the best young health researchers in the country by the Canadian Institute of Health Research, dentistry professor Paul Allison looks at the problems faced by patients with unique needs and few champions.
How capitalism went too far
Maeve Haldane
French sociologist Alain Touraine says labour movements and intellectuals have lost most of their influence but when money talks, everybody listens.
Old Macdonald's high-tech farm
Mark Reynolds
Not too many universities have fully functioning farms a short walk away from classes. The Macdonald Farm. Teaching activities and research programs are fueled by the farm's 200 hectares of crops, 88 dairy cattle, 6,000 chickens, 600 pigs and close to 50 deer.
Also in this issue

Kaleidoscope
McGill's fitness coordinator has tips for those who want to get off the couch; Are you quarrelsome with your colleagues or collegial? An amino acid might tell the tale

On campus
Tales from Ground Zero; Of jocks and jurisprudence; The Tuesday Night Cafe offers a laugh; Elizabeth May to have her say