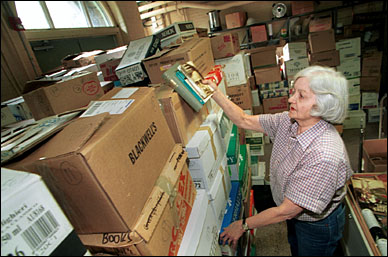 Getting ready for the big day: For three decades, the McGill Book Fair has been a campus institution. Organized by the Women's Alumnae Association and Women Associates (staff and wives of) the fair has raised about $950,000 to date, each year funding over 30 scholarships and bursaries. Donations for this year's fair totalled about 1,200 boxes' worth. Good cause, good books, great prices -- what more do you need? Go to Redpath Hall on October 17 and October 18, from 9 am to 9 pm.
Photo: Owen Egan
Molson gets a makeover
Daniel McCabe
McGill's venerable Percival Molson Stadium, which has played host to Queen Elizabeth, Sting and the Grey Cup, will be receiving a major facelift over the next two years, thanks in part to funding from the city and from the Montreal Alouettes.
Tragedy's trajectory
James Martin
During a round table discussion, McGill experts recently wrapped their minds around the ramifications of a day we'll never forget.
Bad birth control?
Maeve Haldane
Dr. Shree Mulay has serious reservations about the safety of a sterilization method that is being heavily promoted in developing countries. She is putting together a research effort designed to give the women who are the targets of the approach an opportunity to speak their own minds.
A cellular cop that does its job too well
Sylvain Comeau
A molecular police force stands ready inside us to get rid of proteins that are misbehaving. Problem is this cop can't tell the difference between mass murder and jaywalking and when it wipes out some proteins, we're the ones who pay a devastating price.
The contradictions of Canadian Jewry
Maeve Haldane
They get along with everyone else, but stand apart. They're at the forefront of new trends, but hold carefully to their traditions. They fret over assimilation, but seem to be thriving. According to sociologist Morton Weinfeld's new book, Canada's Jews can be a perplexing bunch.
Talking to patients is a virtue
Daniel McCabe
Sure the medical technology has never been better, but how are doctors and patients getting along with one another? How does McGill train young doctors to build constructive relationships with their patients?
Also in this issue

Kaleidoscope
Naomi Lear cares so much it could make you dizzy; He might be an Ig Nobel laureate, but the work Peter Barss does helps save lives

In memoriam
Norbert Schoenauer: brought humanity to housing

On campus
The Dean of Management on how to manage; architecture students tackle the McGill University Health Centre; Rutherford and Soddy: A Nobel partnership; Meningitus vaccine for students

<!C-