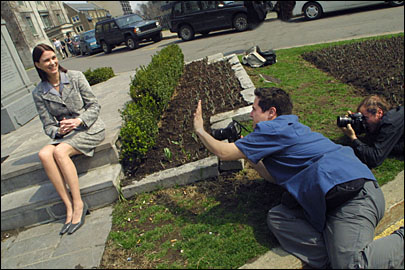 Ready for her close-up: Principal-designate Heather Munroe-Blum, who will start her new chores at McGill next January, poses for newspaper photographers near James McGill's tomb. Munroe-Blum spent a hectic day on campus last Monday, being interviewed by The Gazette, La Presse, Le Devoir, The Toronto Star and other media.
Photo: Owen Egan
Madam principal
Daniel McCabe
Next January, McGill will have its first female principal in its long history when Heather Munroe-Blum takes on the job. Former University of Toronto president Robert Prichard says "There is no individual in Canada better equipped" to lead McGill.
Which way now?
Daniel McCabe
Principal Bernard Shapiro might be in his final year as the head of the University, but his eyes are firmly on the future. The principal is sparking a McGill-wide debate about how the University should deal with its challenges in the years ahead.
Looking to the skies
Mark Reynolds
Professor Patrick Dempsey returns to the Institute of Air and Space Law as its new director. Demsey and the widely-respected IASL will play a prominent role in assessing the future of air and space law in a post-September 11 world.
The sum of our history
James Martin
A new lecture series promises to look at Canadian history from a variety of viewpoints. One of the questions posed by the series is why we should care about Canada's history in the first place?
Driving force in graduate studies
Maeve Haldane
McGill's graduate students need to be better funded and more carefully supervised. Dean of graduate and postdoctoral studies Martha Crago will be leading the effort.
The Nature of things
Daniel McCabe
Being published in the top research journals can make a big difference in a unversity scientist's career. But the competition to get your paper greenlighted by a Nature or a Science is intense.
Also in this issue
The editor rides off into the sunset
Graduate student Vrinda Narain says one set of rights shouldn't be used to smother other rights; This chemist cooks up a storm
A photo exhibition takes a haunting look at the aftermath of an earthquake; McGill memorabilia takes centre stage; Popular parenting conference returns; Celebrate spring with two of Canada's finest voices