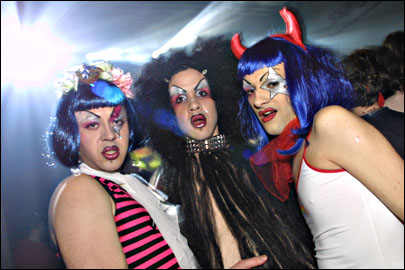 "Everyone knows who we are," say these three fabulous party-goers at McGill's Homo Hop, March 23. Dancing and good times went on until the wee hours of the night to laud the winding down of a successful and event-filled Pride Week. This year, Queer McGill saw its 30th anniversary of celebrating diversity.
Photo: Owen Egan
New head at MNI
James Martin
The Montreal Neurological Institute has a new director at the helm. New Yorker Dr David Colman gives his reasons for coming from Mount Sinai to gaze upon Mount Royal. He admires Wilder Penfield's original vision of scientific collaboration as well as the MNI's clinical programs.
Building for life sciences
Sylvain-Jacques Desjardins
A revolutionary new facility will provide top-of-the line research space for McGill's scientific and medical research. Construction on the Francesco Bellini Life Sciences Building will begin by 2003, officials say, and will boost cross-disciplinary innovations in health sciences.
Bellini: builder of dreams
Sylvain-Jacques Desjardins
The man behind the building, Francesco Bellini, and his go-getting principles on life, work and research. Brilliant businessman and savvy scientist, Bellini believes wholeheartedly in Montreal's role in scientific advancement.
Disarming the Russians
James Martin
Heidi Hollinger has gone from photographer of celebrities to being a celebrity photographer. She came to McGill to talk about her times in Russia snapping shots of regular Muscovites and high-profile politicos, hanging out with boy-bands, and almost making Putin smile.
Chipping away at parasites
Maeve Haldane
Terry Spithill, head of the Institute for Parasitolgy, battles tropical liver flukes and other debilitating nasties while organizing the Institute's recent successes. His plans for a DNA vaccine for malaria involve using the lastest weapons in bioinformatics: protein chips.
Evolution revolution
James Martin
Pond scum may not seem to hold the key for the mysteries of evolution, but Rees Kassen begs to differ. The recent biology grad and NSERC prize winner uses small-scale organisms to study the effect of environment on biodiversity with possible far-reaching applications.
Shrink rapt
Sylvain Comeau
Think tiny. Really tiny. Gordon Roberts does, in order to build equipment that tests microchips. The engineering professor has devised a way to put the test mechanism right in the chip -- necessary in a world where microelectronics are shrinking nearly out of sight.
Suzuki sizzles
Stephanie O'Hanley
Why do so many care so little for the environment, when we ARE the environment? Suzuki answers the big questions and fires up a crowd. There's some good news, though, he promises.
Making contact
Mark Reynolds
The Search for Extraterrestrial Intelligence centre beamed over Dr. Jill Tarter, astronomer and astrophysicist, to McGill to talk about the possibility of life elsewhere in the universe. Why does she believe the statistics are in her favour?
Stacking high at the libraries
Mark Reynolds
From a stuffed falcon to cremated remains to foam clocks. Oh right, and books too! McGill's repositories of information contain a staggering variety of items -- and plenty of stories behind them.
Also in this issue
The tissue sampler with a wide reach; Is it live? -- violins in the air.
Supreme court winner; Managers want to be heard; Air and space law touches down to earth; First Peoples' House art show; Sweet bird course.