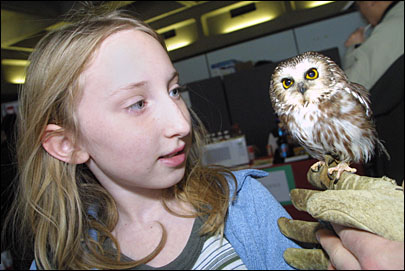 Courtney Purcell, 10, met Makita, a full-grown saw-whet owl from the Eco Museum, at McGill's Open House last weekend. The event showed prospective students what the University was all about, attracting over 2,000 high school and CEGEP students along with their families. Gift bags, door prizes, tours of the libraries, residences and labs were part of the fun, and all the faculties put on displays and demonstrations.
Photo: Owen Egan
New VP (Research) chosen
Daniel McCabe
McGill's next vice-principal (research) comes to the job with a wealth of corporate experience and a proven record for getting things done. One of her priorities will be to help units with so-so research records boost their productivity.
The hunt for residences
Daniel McCabe
The University is attracting more students from outside the city at a time when Montreal's housing situation is becoming increasingly tight. McGill is exploring several options to give its students new places to live.
Head games
Daniel McCabe
Professor Gordon Bloom from the Department of Kinesiology and Physical Education helps the Montreal Canadiens approach their season with a healthy attitude. A sports psychologist, Bloom says coaches and sport administrators don't pay enough attention to mental training. If you want your players to cope with pressure, you have to teach them how.
Looking ahead to the past
Daniel McCabe
Thanks to new funding from the Quebec government, the Redpath Museum is restoring some of its old Victorian charm while preparing a major exhibit that showcases the monumental events that have taken place in or near Quebec over the ages.
Pummelling parasites
Maeve Haldane
Microbiology and immunology professor Greg Matlashewski is leading an effort aimed at eradicating a disease that has been disfiguring children for centuries.
Engineering a better world
Mark Reynolds
The student group Engineers Without Borders hosted a national conference that examined international development issues. At least one speaker made no secret of his disdain for conventional higher education.
Going against the grain
Maeve Haldane
When it comes to the unique world of timbersports, McGill's woodsmen and woodswomen can race up poles, wield bucksaws and launch axes with the best of them.
Also in this issue




The Lou Grant of the Délit Français, McGill ER specialist is chief medical officer for Canada's Olympic team in Salt Lake City



Puppets take the stage; Ladies who lunch; A Beatty lecturer who is feared and revered; McGill assembles politicians, policymakers, pundits and practitioners to offer their prescriptions for the future of health care in Canada.