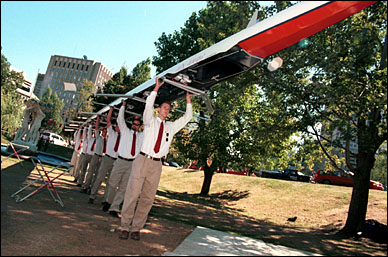 What a dreamboat: The McGill Rowing Club officially christened a pair of new boats that can each accommodate eight team members, thanks to over $60,000 in donations from club alumni and other sources. In recent years, the club has helped launch the careers of world champions and Olympians.
Photo: Owen Egan
Royal Vic for residences
Daniel McCabe
A committee put together to consider the future fate of the buildings currently occupied by such hospitals as the Royal Victoria and the Montreal Children's -- buildings that will be abandoned once the McGill University Health Centre's new campus is completed -- delivered its report recently. It says two of the Royal Vic's pavilions should be converted into student residences for McGill.
Music's future sounds good
Daniel McCabe
The Faculty of Music's new dean Don McLean almost left the University. He stayed because he sees a brighter future ahead for Canada's best music faculty. His first priority? Getting the new music building that people have been planning for years finally built.
Making sense of terrorism
Maeve Haldane
Political scientists from McGill and elsewhere recently gathered to discuss the effects of the terrorist attacks on the United States and to offer their answers to a burning question -- what next?
Doctoring after the attack
Mark Reynolds
After watching the horror of the September 11 attacks on TV, a group of McGill residents and students jumped into a car and sped off to New York to offer their help.
Will Americans be okay?
James Martin
Psychiatry professor Duncan Pedersen has observed the effects of political violence on civilians in Peru. He shares his thoughts on how New Yorkers will fare in the days and weeks ahead.
Advice from the classroom to the capital
HÉLÈNA KATZ
McGill has a long tradition of professors offering their expertise to governments as members of task forces, advisory boards and special commissions. Do governments listen to them? What do professors get out of it?
Also in this issue

Kaleidoscope
La Presse reporter has a passion for Russia; Scientists apply pressure on scholarly journals to make results more available

In memoriam
Joyce Hemlow, Benjamin Higgins

On campus
Mozart won't make your kid a genius; Be a scholar in the sun; Planning to be spontaneously funny; Calluses against cancer

Architecture students don't spend all their time sketching skyscrapers. In Joanna Nash's freehand drawing class, they learn how to capture the essence of real live people such as Gislin Levesque, seen posing above.
Owen Egan