Inclusive toilets
Shannon Devine | For many at McGill, the seemingly small task of finding a suitable washroom cannot be taken for granted. For those living with disabilities, have small children, are gender variant or transgendered, the undertaking is enough to cause real anxiety.
A student initiative for a barrier-free washroom intends to change this, with plans to build a single-unit, wheelchair-accessible, gender-neutral washroom on the first floor of the student union building, also known as the Shatner Building.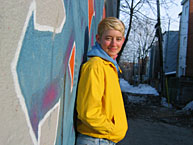 Linda Dawn Hammond
Accessibility must be broadly defined, said Pascal Emmer, a cultural studies and art history student and a member of the on-campus transgender advocacy group, the Trans/Gender Alliance.
Made up of transgendered and transsexual people and their allies, the group conducts educational workshops, lobbies the university administration and student government and acts as a support and resource for those in need.
According to Emmer, the term "barrier-free" connotes a facility that is wheelchair accessible, single occupancy and fulfills a need instead of a gender designation. The privacy of the single unit also allows people with disabilities and their aids to fit comfortably.
The project began last June when the plans for renovations to the Shatner Building were passed on to the new executive of the Student Society of McGill University. It became apparent that the outline did not include a barrier-free washroom, despite building codes that required one.
"I realized that I would not be able to utilize the washroom in the Shatner Building as the renovation plans stood right then," said Brianna Hersey, vice-president of Community and Government. Hersey is also a gender variant student with a disability. Joined by vice-president of University Affairs Vivian Choy, Hersey further investigated and found the McGill University Standards for Barrier-Free Access, which stated that there must be a single-unit, wheelchair-accessible private washroom on the first floor of every building. However, nowhere in the document was gender identity included as a possible obstacle.
"For a lot of people their ability to physically access the infrastructure at McGill has a lot to do with who they are, how they identify or what gender other people perceive them to be," said Hersey, a joint honours women's studies and political science student.
Transgender is used as an umbrella term to describe those who identify as the gender opposite to their biological sex. Within this diverse community, there may be those who do not identify with either gender, those who opt for sexual reassignment surgery and those who do not and instead live as the gender of their choice.
Transgendered and gender variant individuals often experience harassment and violence in washrooms when it is thought they are using the wrong one, explained Hersey.
With this concern in mind, the student government decided to go one step beyond the current accessibility code by designing a single-unit washroom designated with a sign reading "toilette," replacing the male or female pictograms. The first-floor washroom has not yet been started, but will be completed along with other renovations.
"It is a very visible daily experience of discrimination that transgendered people feel," agreed Shari Brotman, assistant professor at the School of Social Work. "Gender-neutral washrooms are a really important first step for the institution to recognize the very difficult issues that trans people face." Brotman is also a member of the McGill Equity Sub-committee on Queer People, which was formed three years ago to address homophobia and transphobia on campus and in course curricula.
Debate surrounding the barrier-free washroom has largely revolved around it being gender-neutral, but this is only half the picture, insisted Hersey. "Far too often, disability is left off the agenda," Hersey said.
According to Hersey, every member of the McGill community should support the barrier-free washroom because it is a matter of justice. "When you are trying to benefit from the university structure, everyone needs to have equal access to facilities in order to feel comfortable, feel sound and be able to check all of their unique challenges at the door."
For more information about the McGill Equity Sub-committee on Queer People, visit: www.mcgill.ca/queerequity. For more information on the Trans/Gender Alliance, email: t_galliance@hotmail.com.