Off campus
Boozing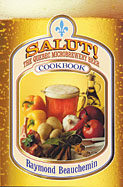 When you say a bookstore is full of cheese, it's rarely a compliment. But Paragraphe Bookstore will be ripe with cheese and brimming with beer this Friday.
Raymond Beauchemin, author of Salut! The Quebec Microbrewery Beer Cookbook, will guide participants through the art of pairing brew with brie and beyond. Local microbreweries such as McAuslan and Boréale will provide beer for this free event, and there will be an assortment of cheese for nibbling.
Although "wine and cheese always work because their tastes run parallel to each other," Beauchemin says, mixing beer and cheese requires more thought. "You can search for something that is more complementary, or try to contrast." His fave combos? "Harder cheese and darker beers — take an old cheddar and marry that with Maudite, or maybe an Oka Classic with Trois Pistoles."
Beauchemin has written about Quebec's microbrewery scene for The Gazette since 1993. He's created and gathered recipes that use our province's tasty microbrews, from mussels au gratin to chocolate mousse.
Beer and cheese tasting will take place at Paragraphe Bookstore, 2220 McGill College, on Friday, March 12.
Thinking
I think, therefore I am, proclaimed Descartes. Perhaps, but what do you think about? And what with? Such existential questions can only mean that it is Brain Awareness Week. Whether you're a human, or merely a squirrel dreaming that you are a human, you will be interested in the public lecture series at Concordia University, which features a number of noted McGill brainiacs on such topics as imaging techniques in brain research, the function of the brain in fear and the challenges of Parkinson's. Talks run March 15 to 18. Check out www.sfn-montreal.ca/baw for details.
Showing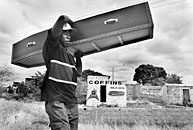 Bernard Weil
Engineers Without Borders chapters from three Montreal universities, École Polytechnique, Concordia, and McGill, are teaming up with CARE Canada to host the moving photo exhibit HIVPositive — AIDS through a new lens, on tour across Canada. Seven members of PhotoSensitive, a group of Canadian photojournalists, travelled to Zambia in April to photograph the efforts of people involved with CARE's projects and the programmes of our partner organizations. The show, held at public and campus centres, puts a human face on AIDS in Africa, and how the disease affects all levels of economic and social development.
Events will be held on Thursday, March 11 from 8 am to 5 pm at the McConnell kiosk; Friday, March 12 from 8 am to 8 pm in the Leacock Lobby (as part of Raha night celebrations and fundraising for EWB); Sunday, March 14 and Monday, March 15 from 9 am to 6 pm at the McGill Metro; Tuesday, March 16 from 9 am to 5 pm at the McGill Bookstore; Wednesday, March 17 on the Concordia campus; Thursday, March 18 on the Macdonald campus. For more information contact mcgill@ewb.ca or see the website, care.ca/actn/photosensitive/photosensitive_e.shtm.
Critical care for the Royal Vic
Architecture professor Annmarie Adams makes a plea for timely reuse of the hospital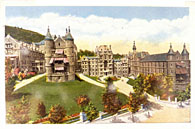 Montreal's magnificent Royal Victoria Hospital of 1893, constructed on the slopes of Mount Royal, may soon be vacant. Of the five health-care institutions scheduled to move to McGill University's proposed "superhospital," the Royal Vic is by far the most architecturally significant.
The hospital is Canada's premier example of the so-called pavilion-plan type, whose hallmarks include long, narrow wings with open wards. The heritage value of the Royal Victoria derives, too, from the pedigree of its architects. British hospital specialist Henry Saxon Snell designed the original building. Boston- and Toronto-based architects Stevens & Lee, who dominated the field of hospital architecture in North America in the interwar period, subsequently designed two major pavilions on the site: the Ross Memorial Pavilion for private patients and the Royal Victoria Montreal Maternity Hospital. A host of well-known Montreal Modernists worked on the hospital's physical plant in the post–World War II period, offsetting the castle-like hospital with sleek, white multi-storey towers.
Although pavilion-plan hospitals were constructed by Snell and his contemporaries around the world, several features of the Royal Victoria make it unique. The architect based the original hospital on the Royal Infirmary in Edinburgh in order to please the hospital's benefactors, Donald Smith and George Stephen. Snell's version of the "Scottish baronial style" showcased thick masonry walls and steep copper roofs, punctuated with dormer windows. Also, the round turrets marking the corners of the hospital wings were a particularly British feature of the building. Snell's stunning drawings, recently uncovered in the hospital and currently under restoration at McGill's Canadian Architecture Collection, reveal that these romantic towers once housed toilets!
Sadly, dozens of other Canadian hospitals face abandonment and possible demolition. Already gone are the Calgary General Hospital and Toronto General Hospital's T.J. Bell Pavilion, both significant illustrations of Modern hospital design.
Examples from Atlantic Canada, where the Canadian version of this abandon-the-building syndrome originated, underline the danger of buildings sitting empty and unheated for any time at all. The Grace Hospital in St. John's and the old Halifax Infirmary are vacant and already deteriorating. When it closed in 1997, the Halifax hospital was a fine complement of healthy 20th-century structures, appropriate for reuse as university residences or even affordable housing. By 2001, water and a lack of heat had damaged its walls and floors beyond repair.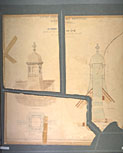 Mount Sinai Sanatorium in Ste. Agathe des Monts, a stunning Art Deco hospital from 1930, is in even worse condition. Notwithstanding suggestions from concerned citizens and heritage activists that this highly significant (and beautiful) site — it's reputed to be the first Jewish community–funded health centre in Canada — be rejuvenated as a Jewish studies centre, an Elderhostel or even affordable housing, the old hospital is currently full of ice and snow. Sadly, the hospital's temple, by far its most significant interior space, recently lost its copper roof.
The situation of hospitals sitting empty is entirely avoidable and particularly perplexing, as examples of excellent hospital reuse projects abound. Internet bookseller Amazon.com makes its home in a former veterans' hospital in Seattle, Washington. Sportswear giant Adidas just remade the Bess Kaiser Medical Center (constructed in the '50s) in Portland its spiffy new corporate headquarters.
Universities and cultural institutions, too, have taken on the challenge of hospital reuse with great success. Since 1995, Cambridge University's business school, the Judge Institute of Management, has been located in the refurbished and extended Addenbrooke's Hospital, which was first established in 1766. And tourists flock to the Irish Museum of Modern Art, whose new digs have revived the old Royal Hospital at Kilmainham, near Dublin, among Ireland's most significant 17th-century buildings.
Why don't we care more about our grand tradition of health-care architecture? Plans for the new McGill University Health Centre (MUHC) have been in the works for a more than a decade. Reuse hearings managed by the MUHC were held in 2000-01. Still, planners have published no viable reuse plans for the Royal Vic and no independent heritage evaluation of the hospital has ever been commissioned. An empty Royal Vic, even for a short time, could have devastating consequences for our campus and for our city.
Annmarie Adams is an associate professor at the School of Architecture, McGill University. She has just completed a book manuscript, Modernizing Hospitals: Edward F. Stevens and the Architecture of Medicine, 1893–1943, which focuses on the Royal Victoria Hospital.